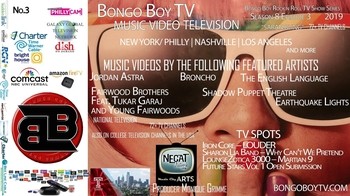 Be exposed! 22+ Million Households on 72+ Terrestrial TV Channels all can see our TV show series. Now in Post Production Music Video Television show Bongo Boy Rock n Roll TV show series Episode 3 Season 8. Each TV episode is distributed to 72+ TV channels in Cities like NYC, Nashville, Los Angeles, Austin, TX, Portland OR and many many more. DIY Sponsored and in Collaborations with HIP Video Promo and record labels around around the world.
To be on Television – submit@bongoboyrecords.com
Jordan Astra gets into sweet sunny grooves with the aptly named "All Blessings". With thoughtful cheery lyricism the song bounces. Grooves have an infectious quality as they linger in the mind.
On "Big City Boys" Broncho taps into U.S. Girls' gorgeous style. Stylistically bringing in funk, pop, with an 80s flair the track is a pure joy. By far the heart and soul come from the passionate vocals that possess such fire to them.
The English Language embrace a noir with their haunted garage rock of "High Beams". Haze and daze are strong within the piece as the song refuses to ever come into focus. Lyrics have a nightmarish aura to it.
Impossible to properly categorize is Fairwood Brothers kaleidoscopic references of "Theme from East Plains. Get Out! Feat. Tukar Garaj and The Young Fairwood". Razor sharp insights filter into the mix ensuring the whole piece has a living, breathing quality. Grooves go for a jagged edge.
A casual cool comes into the fray on Shadow Puppet Theatre's "Mystery Girl". Bass rolls through elegantly as the rhythm has a warmth to it. Highly polished the piece has a hypnotic quality to it.
Quite ornate Earthquake Lights goes for a cinematic spirit with the lovely "Moonlight". Full of bright brilliant color it all comes together into a singular satisfying whole. Right at the front and center of it all are those glorious lyrics full of such a sense of undeniable hope that carry it through.
Site – http://www.bongoboytv.com/