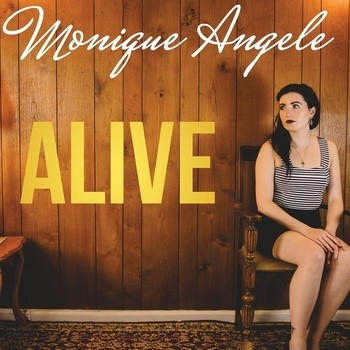 URL: https://www.moniqueangele.com/
A soothing piano melody swarms around us, entrancing all within earshot in a hypnotic radiance that is usually only present in dexterously arranged symphonies. Soon, it's joined by a swanky vocal from Monique Angele, who carefully imprints her stylish serenade on the texture of the backing track. Her voice and the piano become entwined and lure us ever closer to the white hot flash point of their catharsis – this is "Our Paradise," one of six songs that comprise Angele's new album Alive, and it stands as one of the most attractive cuts of pure vocal pop to see release in 2019 thus far.
Every song that we find in Alive has the unruffled varnish of a single, and by that I mean that while magnificently multifaceted, each track has a streamlined quality that makes it perfect for mainstream airplay. In this current musical climate, too few artists are vulnerable and chillingly forward in their material, but that can't be said of Angele in songs like "Forever Strong" and "Pink Coloured Sky." This record is an iridescent exercise in surrealism if I've ever heard one, but it's far from inaccessible to the more casual pop fan.
The leadoff single from Alive is "Hold On," and in the music video for the song, we look on as Angele plays the piano and sings to us in a series of highbrow theatrical shots. It's a stunning visual to complement the postmodern nature of its source material, but Angele goes out of her way to avoid the pitfalls of overindulgence by keeping the narrative of the video centered on the music and the music alone. She doesn't need a big budget storyline to sell us on this melody, and I appreciate her not trying to play to some commercialized trend but rather keeping the substance of her craft a top priority.
FACEBOOK: https://www.facebook.com/moniqueangeleofficial/
Alive is a really fluid record, almost to the point of being conceptual in its track listing, and it all starts with the crushing emotion that washes over us in "Pink Coloured Sky" and bleeds into "I Want a World," "Hold On," "Our Paradise," "Forever Strong," and finally, "Rare Girl." "Rare Girl" brings all of what we've heard in the previous five songs to a divine conclusion both poetically and instrumentally, though I must admit, I found myself itching for just a little more content at the end of its nearly four minutes of sumptuous grooves and harmonies.
Fans of pop, classical, soul and indie music will likely agree after hearing this record that Monique Angele possesses a stylish old world charm that is exceptional in modern music, and frankly, it deserves to be spotlighted. Her brand of melodicism is of an erudite variety of vocal music that isn't as common as it once was, but nevertheless speaks to a very romantic part of the international pop songbook that is still viable, relatable and addictively swinging today. I hope that she continues on this present trajectory with her music, because if what she's done in Alive is what we can expect out of her in the future, she's bound to make her ascent into the mainstream and onto the primetime stage.
AMAZON: https://www.amazon.com/Alive-Monique-Angele/dp/B07GPN5WSH
Gwen Waggoner