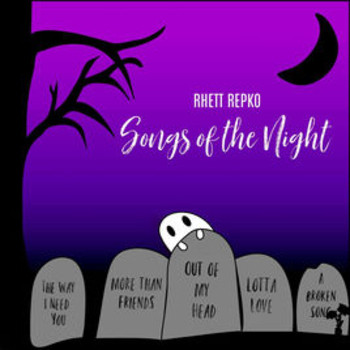 Rhett Repko loves rock & roll, but he sings with a slightly effeminate voice, which leaves his attempts to rock out sound much closer to pop. Fronting this power trio, the songs on Songs of the Night are both melodic and memorable.
Rock & roll is oftentimes about wishing and hoping. "Lotta Love," is just such a song. It includes the lines, "Singing songs to a girl I haven't met/Hoping one day she'll end up in my arms." Instead of singing to and about a particular girl, this song imagines that potential Mrs. Right as though she was within reach.
Repko caught the music bug back in high school when he took a guitar class. Like many before him, and likely long after, Repko was originally influenced by the Beatles. The Beatles may not have been the first band to create super pop-y rock & roll, but they were one of the best. They made it all look so easy, which may be why so many bands were inspired to give it a go by these four from Liverpool.
With "A Broken Song," Repko sings away his pain. "I don't know what went wrong," Repko sings into his rearview mirror. The song pops along nicely but features a melody that sounds straight out of a Pixies album. It's a song where Repko expresses deep sadness with his singing voice.
"Out Of My Head" rocks with more of an acoustic guitar groove. Once again, though, Repko sings regretful lyrics. "Why am I so sad?" he asks. "How'd it get this bad?" Relationships can sometimes become this way. Things can go from bad to worse, and quickly. These two songs help explain the album's title, Songs of the Night. These are the sorts of thoughts one only thinks at night. It's there, in bed tossing and turning, that one begins to play Monday morning quarterback. Every word is relived like a failed play from the line of scrimmage.
The album's best guitar riff is found on "More Than Friends." It's a jaunty, jittery string of notes. Repko sings this song, where friendship alone won't do, with power-pop-like enthusiasm. "The Way I Need You" includes the EP's best thumping beat. It's as danceable as it is melodic.
Songs Of The Night might include a goodly share of regret. However, Rhett Repko's knack for writing catchy tunes makes all this romantic rumination worthwhile.
-Dan MacIntosh