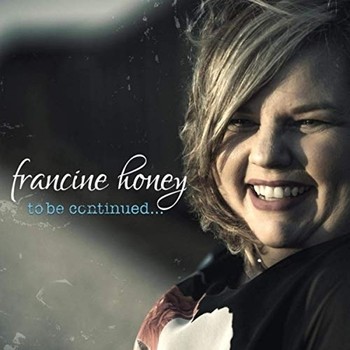 URL: https://francinehoney.com/
Glassy beats cascade from a patient drum kit, dotting the landscape that guides us into To Be Continued…, Francine Honey's latest LP, and its introductory track "Snowflakes on My Eyelashes." Honey is joined by Beth Nielsen Chapman here, and together they stoke a raging fire that will melodically burn and carry us into the blues guitar of "Stay." In this second song, we start to get into the swagger that Honey has learned to control so exquisitely since her last release, and it doesn't stop as we work our way through the spacey glow of "To Be Continued" and the southern revivalist "Honey." If Re-Drawn was a template of her handiwork at its most angelic and surreal, then this album is the fully-realized tour de force that exemplifies the very nature of her style.
"Shacked-up Sweetie" comes ripping through the middle of the album with a pendulous swing that, as we learn in its music video, can't be silenced no matter what sort of setting it happens to be played in. The video takes its storyline directly from the words of the song and fuses it with Hollywood-quality cinematography that doesn't washout the substance of the material in the least. Sporting a flower print dress and a grin that goes on for miles, Honey entrances us from the epicenter of a festive wedding, where her music serves as the penultimate backing track for two lovers tying the knot. It's clear to me why this was selected as a single; it's got a folksy earnestness that diehard fans will love, but just enough pop polish to win over more casual country listeners as well.
To Be Continued… presses on with the hesitant ballad "Space" before firing up the overdrive once more in "Open Road," which I think would make just as fetching a single as "Shacked-up Sweetie" does (in part thanks to its equally imagistic lyrical content). The highway-bound poetry sets the stage for an elegant release in "Mamas Take Bad Dreams Away," and eventually, the regret that gives life to "Marilyn," a startlingly smooth folk tune that has a lot more bite than it initially advertises in its glistening opening melody. "I Wish" brings us back up to more optimistic grounds, but once we conclude our journey on the note of "Can't Break Through to You," the complexities of this album really start to add up and provoke deeper thought in all who have just consumed it.
Bar none, I don't think I've heard a country record quite like To Be Continued… from either an American or a Canadian singer/songwriter before, and for all that it lacks in corporate-conceived grandiosity, it more than makes up for in cutting lyrical might, evocative musicality and an effervescent master mix that makes every song feel like a personalized performance. With that said, I don't think that Francine Honey is anywhere close to plateauing artistically, and with country music being at a confirmed crossroads culturally, there's plenty of reasons to believe that she could make a play for the North American throne if she keeps turning out albums as appealing and uncomplicated as To Be Continued… is.
SPOTIFY: https://open.spotify.com/artist/2CdnJgAGtOZFxJWg1q6npz?autoplay=true&v=A
Gwen Waggoner