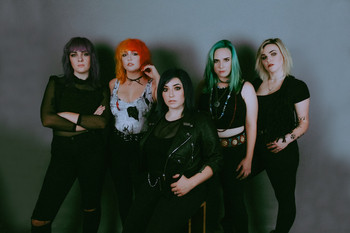 Reason|Define release the music video for their emotional song "Mirrors" today in a refreshingly intimate way. The all-female rock/post-hardcore band give fans a closer look into just how personal the message behind "Mirrors" is. The music video helps the single, off of upcoming album In Memory due out March 1, strike a personal note for many, as the project conveys the struggles that come with grief and a lack of self-acceptance.
The simple, single-location setting of the video allows for the focus to be on the lyrics and feeling rather than over-the-top theatrics. The somber piano playing and close-ups of the group truly capture the intense emotional quality of the lyrics and highlight the band's intense vocal abilities.
Not only does the band strive to shed light on these often avoided topics, but they also offer encouragement to fans that everything will get better. "Mirrors" lets fans know that they are not alone, and everyone has hit rock-bottom before. Reason|Define Band members sit together at the piano in the video in order to strengthen the idea of togetherness and community. Meeting the camera's gaze, the lead singer engages directly with the audience to send a message of solidarity.