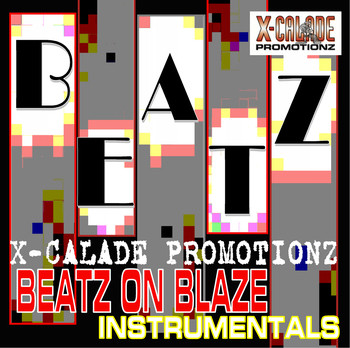 The mastermind behind this new album is none other than the tenacious Fabp aka Fabpz The Freelancer with help from Pete Atkinson of X-Calade Promotionz. Together, this tag team has created body-slamming beats that are simply FIRE! 'Beatz on Blaze Instrumentals' offers listeners 14 highly original & fresh recordings that will blaze through your speakers. These tunes are in your face and unpredictable as X-Calade Promotionz gives you endless rounds of straight Underground sound.
What I love about this album is that the turntable is the star of the show where it's all about mixing it up. The record starts up with a track titled ""Danielle Ruby Instrumental" that is one RAW cut and can best be described as "Boombastic" beatz from another dimension! Next, drink in "Juice Box Instrumental" that flows along like a Fab Freddy Krueger mix and one scary, good time! Drop the beat like there is no tomorrow on track three, "Dedication Riddim", and then check out X-Calade Promotionz cooking up a batch of hot, poppin' beatz on "Mommy Cooking Instrumental". Brace yourself for a futuristic voyage on "5000Served Instrumental" that has these hip-hop terrestrials blastin' you with sound waves for days. I also picked up on an element of a video-game effect here where I could easily hear "5000Served Instrumental" as background music for any Adventure-type game today. Get your BOUNCE on with "Bunny Hopper Instrumental" and then prepare to hear distorted madness penetrating your eardrums on "Prentice P Instrumental". X-Calade Promotionz is ridin' the Golden Chariot into "Golden City Instrumental" like a true Boss firing off bangin' beatz at will. Moving along, track 10, "So Many Died Instrumental", is not grim at all but actually jam-packed excitement with a slick, gravitational pull that will keep you movin' for hours on end. Mayday, Mayday…Hit the deck because X-Calade Promotionz is droppin' bombs on "JohnCrow G.I. Riddim" and comin' out with beatz blazin'! Immerse yourself in a clean-cut, sleek style on track 12, "Pure Vanity Riddim", where you'll have to sound the alarm because X-Calade Promotionz School is in session! Get ready for an all-out, musical assault on "Supreme Wreck Instrumental" and then that's a WRAP on the finale "13 Years Instrumental".
In the end, I have to say that I am overly pleased with this release of raw, to-the-bone cuts. This is Underground hip-hop at its finest because there are no rules and nothing stopping the unfiltered fury of X-Calade Promotionz. The old-school hip-hop source is in full effect here but unconventional tracks like I've never heard before. 'Beatz on Blaze Instrumentals' is a No-Holds-Barred session of catchy loops and genuine hooks that will be ringin' in your ears for years!
By Jimmy Rae (https://twitter.com/2JRae)