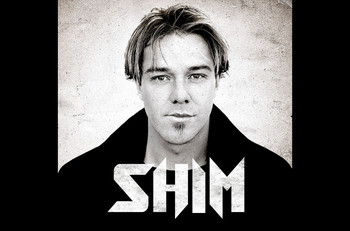 Anybody who has seen him in concert can testify that one SHIM (aka Shimon Moore) is enough for any music listener to handle. How about two SHIMs? One who moves at an average human pace, and another – a demonic doppelganger – whose accelerated activities are fiercely unnerving? Both the tormented Moore and his monstrous alter-ego haunt the frames of the video for "Crucified," his latest single. Are they friends or foes? Will they work together, or will one absorb the other?
Hero and villain, lover and fighter, thoughtful songwriter and devilish provocateur, sweet singer and loud screamer, photogenic pop star and lens-shattering rocker: Shim Moore has been all of these things. As the longtime frontman and co-founder of Australia's Sick Puppies, he was the face of a group that defied classification – one that delivered a searing amalgam of alt-rock, punk, emo, molten metal, throwback grunge, and soaring balladry. With Sick Puppies, he steered four albums on to the charts, including the thunderous Tri-Polar, which was released in 2009 and reached #12 on Billboard's US Rock chart, and its ambitious successor Connect, a #2 US Alternative smash. The hit single "You're Going Down" will remain in rotation indefinitely in sports arenas, wrestling rings, and anywhere where bursts of adrenaline are required. SHIM's incendiary performance helped score the band a gold record.
Site – http://www.shimmusic.com/
On his own, he's no less fiery, and no less stylistically restless. "Crucified" is a perfect example of the breadth of Moore's talents and the flexibility that has always distinguished him among his peers. The song begins as a menacing stomp with industrial overtones and progresses to a dreamy, atmospheric bridge before exploding into a hard rock chorus. Moore handles the curves and changes with ease, radiating self-confidence and swagger. It's a wild ride, but the star remains in control.