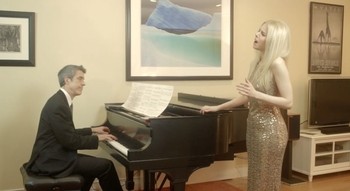 Moriber and Musical Theatre Composer Joseph Thalken Put Together An Arrangement That Pays Homage to All Three Film Versions (Judy Garland, Barbra Streisand, AND Lady Gaga) Just in Time for 2019 Oscar Season
More About Brooke Moriber:
Brooke has been lauded for her "clarion voice" by the Associated Press and songs that are "destined for high rotation". A native New Yorker, Brooke began her singing career at the age of 8 by snagging a starring role on Broadway as Young Cosette in Les Miserables. No less than The New York Times has praised her acting ability as Brooke went on to star in six other legit shows as well as several roles on TV and in film. Brooke's remarkable ability to juggle her career as both a recording artist and an actor led to her sharing the stage and screen with such performers as The Gin Blossoms, Cyndi Lauper and Alan Cumming as well as singing the National Anthem for the New York Knicks.
She recently announced the pre-order for her most recent LP "Cry Like A Girl" recorded in Nashville, Tennessee, with legendary producer Fred Mollin (Sheryl Crow, Vince Gill, Shawn Colvin) at the helm. Cry Like A Girl is not only produced by a music industry legend but was also mixed by 5 time Grammy Winner Chris Lord-Alge (Carrie Underwood, Of Mice And Men, Bruce Springsteen). Pre-order packages include signed copies of the album, private singing lessons, a dedicated YouTube cover, and more!
https://www.instagram.com/BrookeMoriber/
https://twitter.com/BrookeMoriber
http://brookemoriber.com/