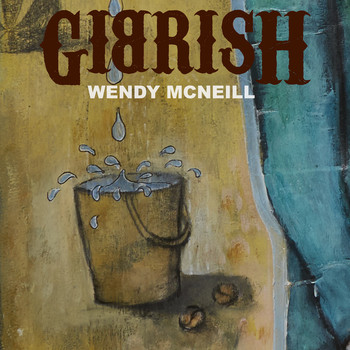 This will be my fifth article for the Swedish sensations known as Gibrish dating back to 2014. About four months ago, I had the chance to review two singles for Gibrish and one of the songs was titled "Bara en krona (Just one crown)". The reason I bring this up is because this previous track was a cover of a Gillian Welch song co-written by David Todd Rawlings. Low and behold, the song in question is none other than "One More Dollar" as Gibrish decides to take it for another spin.
This time, the band adds in Canadian singer/songwriter Wendy McNeil who now resides in Spain. With Christer Suneson on lead vocals, the chemistry between the two singers is nothing short of spectacular. The blend of Christer's raspy and commanding presence mixed with Wendy McNeill's tender and refined notes is like a musical oasis. Two completely different voices are being heard but the result is extraordinary. The vocal dynamics between Christer's deeper register and Wendy's softer side are highlighted solidly on "One More Dollar". This song has so much depth and is one strong-willed number that will captivate listeners everywhere.
Gibrish has been playing "One More Dollar" at various shows, but Christer Suneson stated that "the song is so good and important that it is time to release a new version". Together with Wendy McNeill, these talented artists have breathed new, exciting life into "One More Dollar". While staying true to the original Gilian Welch song, Gibrish and Wendy McNeill have also spiced it up and Gibrified it. This composition is being reintroduced in a whole new light that is both respectable and authentic. I think that writers, Gillian Welch and David Todd Rawlings would be very proud of this rendition hearing how much "One More Dollar" has evolved. This tasteful & inventive tune can once again be appreciated by fans except this time new layers & dimensions can be heard. Gibrish and Wendy McNeill have shaped this track into a carefully-constructed, certifiable gem of a cover.
Gibrish stays true to the Swedish folk scene while branching out and creating a whole, new genre of their own that is simply Gibrish. Wendy McNeill and Gibrish have done major justice to "One More Dollar" by delivering a thought-provoking and powerful performance. The song offers real substance and pure feeling that can't be denied and can't be replicated. The release date for "One More Dollar" is February 08, 2019 and the anticipation is intense. You will most definitely get your money's worth with "One More Dollar" and its incredibly rich sound. Gibrish AND Wendy McNeill provide a healthy wealth of fine musicianship and superior artistry on the brand new single. Now, only thing left to do is get Gibrified and applaud Genuine Gibrish on their recent effort.
Site – http://gibrish.se/
By Jimmy Rae (https://twitter.com/2JRae)