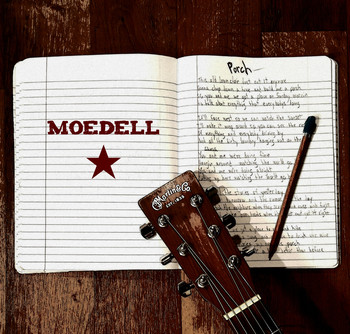 MoeDeLL plays with a painterly precision on the blissful beauty of "Porch". Featuring a cinematic flourish, MoeDeLL proves to have a deft ear for melody. The arrangement neatly explores the importance of texture, of tone, and of the intermingling of multiple layers of sound. Highly unique in their approach not a moment feels wasted. Letting the whole of the track embark on a surrealist, folksy journey the track radiates with an uncanny sense of hope and optimism. Not a word is spoken, nor does one need to for the intention is clear, a sense of purpose of desire informs the entirety of the piece.
A gentle acoustic guitar introduces the piece. Such a thoughtful phrasing MoeDeLL lets that build for a moment as additional details gradually filter into the mix. Highly ornate in a way reminiscent of Steve Reich's carefully arranged patterns. Emotionally charged the track grows in scope becoming quite sweeping. The delicacy of his guitar never loses its potency even as an ever-increasing array of instruments enter into the mix. Quite colorful the whole of the track has a grandeur to it one that constantly refines itself. Letting the song ebb and flow works particular wonders as the entirety of the piece opts for a cyclical approach. Rustic yet raw, the whole of the song has a great sweetness to it even as it slowly fades away for its reflective finale.
Delivered with the most heartfelt sense of passion MoeDeLL's "Porch" lingers with the listener long after it is over.