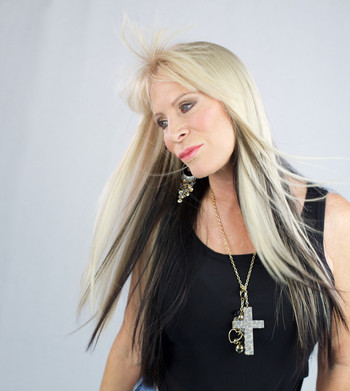 I'm hooked right out of the gates when I hit play on "Let's Get Funky" by DEVI. This singer/songwriter/musician has created such a fun-spirited atmosphere with this new single. "Let's Get Funky" was written and produced by DEVI and is featured on the album 'Amazing' and have to say I am a fan!
DEVI has been nominated for a NEW MUSIC WEEKLY award for AC/HOT AC BREAKTHROUGH ARTIST OF THE YEAR and can't say I'm surprised to hear this after taking a listen to her lively track. This song is just flavor overload with funky fresh, rock'ish hooks hitting me from all directions. DEVI comes across as a playful kitty on "Let's Get Funky" with her bubbly & alluring tone/demeanor. This Songstress is playing the role of Temptress on the recent single just waiting to sink her musical claws into the listener. This track will put some extra bounce in your step as DEVI delivers a cool 'n' catchy tune. With her vivacious presence, DEVI will have you gettin' crazy and bustin' loose like it's 1999. If you don't believe me, then just listen to the late, great Prince for proof. DEVI is going all funk-nasty and truly tapping into that funky spirit here. With a hot dance rhythm and appealing vocals, DEVI and "Let's Get Funky" will have you movin' & groovin' for days on end.
I'm really impressed with the entire recording here because the sound is so inviting and the overall vibe is a feel-good one. "Let's Get Funky" is an entertaining number that can be enjoyed in the comfort of your home or out on the dance floor. DEVI is one frisky artist to watch out for as she scratches her way to the top of the charts with her latest single.
https://www.facebook.com/Deviofficialnow/
By Jimmy Rae (jrae2@att.net)