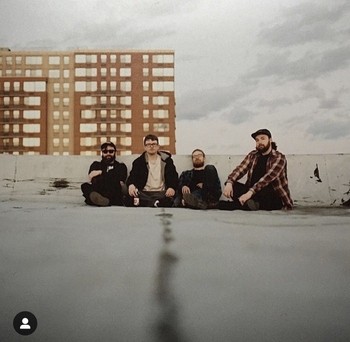 Cicada Radio hail from Hudson County, NJ and have been a staple of the local music scene for the past six years. Though they came together as a trio in 2010, they have since expanded their lineup, consisting of brothers Patrick and Michael Keefe leading the band on guitars and vocals and supported by the impressive and tight-as-nails rhythm section of drummer Josh Bartsch and bassist Brandon Barron.
Citing influences such as At The Drive-In, Desaparecidos, and The Police, Cicada Radio have developed a post-hardcore sound that harkens back to the early 90s D.C. music scene but with a distinctive sound that is wholly their own. They seamlessly blend haunting melodies and lush noise-scapes with singer Patrick Keefe's reverb-drenched voice like a chemically-induced fever dream. Michael Keefe's delay-laden guitar leads ebb and flow through each song like an opiatic lullaby.
https://cicada-radio.bandcamp.com/
Their new single, "Erased On Re-Entry," is off the band's fifth and most recent album, Catch And Release, which showcases a more mature and evolved sound that is reminiscent of late 90's emo pioneers like Jimmy Eat World and The Promise Ring. While still maintaining their signature brash sound, the new album manages to invoke lush sonic landscapes with much more precision and clarity than ever. The music video was shot in Tokyo, Japan by the band's former drummer, Mike Kundrath.