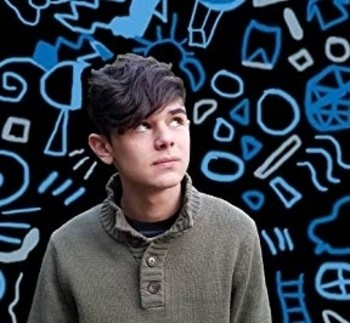 Sam Levin delves into a beautiful tenderness with the powerful folk electronics of "Bookmark". Highly ornate, the polished delivery recalls the carefully considered gestures of Four Tet's earliest works. Keeping things bright and airy, the lightness of the track draws a bit from Bossa Nova, jazz, and the gentleness of thoughtful pop. By far the highlight of the entire piece emerges with the poetic musings of the lyricism, which proves Sam Levin to be a deliberate storyteller, incorporating just the right amount of literary allusion within the arrangement. The sharp insights balanced with a dreamy take on small domestic scenes draws from Jim O'Rourke's poppy inclinations.
Guitar work feels nearly angular as it carefully accompanies his low-key, mellowed out vocals. Percussion skitters about serving as a time keeper, never becoming too overwhelming. Nearly geometric Sam Levin lets these elements fold into each other making the piece feel akin to a unique form of geometry. Small flourishes filter right into the mix ensuring that not a moment is wasted. When he lets things slowly melt away it allows his voice to take front and center stage if only for a moment. Highly intricate Sam Levin allows the cyclical quality of the piece to resonate strongly. For the final stretch of the work Sam Levin plays with tempo in a compelling fashion, as it drifts away into the sky in a marvelous fashion.
With "Bookmark" Sam Levin sculpts an entire world, one that feels warm and familiar.
Upcoming album, 'A General Air of Regret' set to be released 2/27.