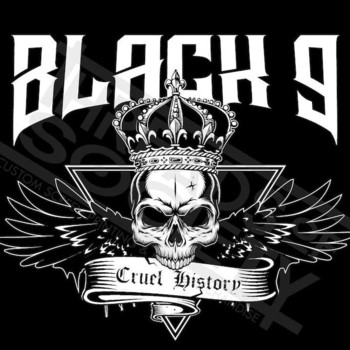 You wouldn't think this is a cover of the legendary Tom Petty/Stevie Nicks duet from the opening alone and when the full band comes in and a piercing lead guitar flourish overwhelms the senses. It soon settles into some recognizable riffing, recast in metal guitar, and Aven's vocal contributions lead the way. She has a voice that crosses stylistic lines – her talents for hard rock and metal are apparent, but she takes on "Stop Draggin' My Heart Around" with loose sophistication, maintaining a foot in both camps. The original version of the song is more of a dialogue between two voices than this song, but the primary tandem behind Black 9's art, Aven and her songwriting partner Blakk do exchange vocal lines, but Aven's prominent position in the recording isn't a bad thing. For me, she comes across as the song's marquee element.
The confidence she has taking on Stevie Nicks' famous studio recording is admirable and, indeed, Aven ends up claiming a piece of this song as her own without ever aping Nicks too much. She remains faithful to the original spirit of the song while still firmly bringing it into a hard rock sound without exerting much apparent effort. The greatest songs, in the end, are malleable things and Black 9, if nothing else, proves that Petty's songwriting for this track shares the same elastic quality as his classic material. Black 9 make excellent use of Petty's gifts and bring their own personality both vocally and musically to this tune.
Guitarist Tiffany Marsten is a big reason why. She has chops galore without ever coming off as insufferable and has a versatility of sound that immediately catches your attention. These qualities shine through despite her wont for speedy runs where the notes pile on and threaten to overtake the listening experience, but her performance hangs together in the end because she never over-relies on the aforementioned flash. It's threaded together, instead, by a lot of solid connective tissue where Marsten shows how she can focus on bringing the songwriting to life. The energy of her six string work is a major force in the song's success.
The song comes in at just under the four minute mark, but the track feels at least a minute short. The attention to detail Black 9 bring into making this cover work will garner them a lot of much deserved attention; the audacious decision to mix up the original material on their studio collection Cruel History with a wildly unlikely cover separates them even further from comparatively run of the mill modern acts. Aven Roth's vocals are the class of the song, but the band proves capable of enhancing her singing at every turn. "Stop Draggin' My Heart Around" refurbishes this Tom Petty written classic for a modern day and very different audience, but a few listens into this track has convinced me the band's target audience will appreciate the same qualities audiences of the 1980's embraced in such numbers.
Gwen Waggoner
The music of BLACK9 has been heard all over the world due to the radio plugging services offered by Musik Radio Promotions. Learn more – https://musikandfilm.com