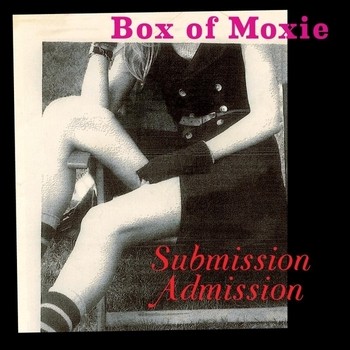 BANDCAMP: https://boxofmoxie.bandcamp.com/
Box of Moxie's sixth studio effort Submission Admission, written by chief songwriter and vocalist Stephen Jacques and produced by the incomparable multi-instrumentalist Alan Weatherhead, welcomes listeners into a surreal collection of emotive folk-rock that is as evocative as it is stylish. Opening with the plaintive star single "Irish Sea Lovers," Jacques wastes no time before laying into an eclectically designed melody that wraps around us like a warm blanket and smothers us in decadent grooves steeped in a rustic tonality. It sets the stage wonderfully for the rollicking sway of "Hatteras Surf Buzz," one of the more pensive tracks on the whole of the record. "Hatteras Surf Buzz" is definitely more balanced instrumentally than its predecessor is, but make no mistake about it – Jacques' glowing vocal is always the star of the show.
"Train Car Romance" is, admittedly, one of my very favorite songs from Submission Admission, but it isn't because of its highbrow hook alone. The entire arrangement of this track is engaging, from the strut of the percussion to the homespun strumming of the guitars, making us feel like we're up close and personal with Jacques and Weatherhead inside the studio. It's not the lumbering dirge that "Driving Rain" is, but putting the two together definitely adds a contrast to the record that I found to be as compelling as any of the musical elements are. The title track follows a similarly patient pace, though its central melody blossoms into something that is arguably much more epic and ambitious by design.
SPOTIFY: https://open.spotify.com/artist/00YEZXdzd9PzgFXXh6xmme
The exotic pop of "In the Palm of My Hand" makes for one of the sharper and erudite pieces of poetic patchwork to be found in Submission Admission, but it isn't the only song where Box of Moxie explore their sonic depth. "Gloria My Sister" and "Tower of Love" are boldly crafted experiments in postmodernism, flanked by the folkie prose of Jacques and brought into full-color high definition by the smooth production hand of Weatherhead. I would say the same of "Sunny Beach Days," but the track's Dylan-esque tone doesn't allow for it to become quite as indulgent and angular as the two songs that follow it are. All of this material progresses with a magnetizing fluidity, making Submission Admission a perfect album to soundtrack a lazy afternoon.
An ocean of synthesized harmonies churns beneath the half-whispered croon of Jacques in the minimalist ballad "Nocturnal Love," which is the concluding track of the record, but they don't come to us faceted in plasticity. Like everything else to behold in Submission Admission, even this understated closing tizzy of effervescence is delivered free of the cheap varnish and inauthentic framework of mainstream rock, putting far more stock in the tonality within Box of Moxie's musical profile than it does the cosmetics of the track. As the melody fades into silence and all we're left with is the echoing verses of songs like "Train Car Romance," "Sunny Beach Days" and "Tower of Love," one thing becomes impossible to deny. Box of Moxie haven't just crafted another stunning, full-bodied album – they've issued their most direct artistic statement yet. A supreme addition to an already sterling discography under the moniker bearing the band's name, Submission Admission is an excellent, engaging LP through and through.
CD BABY: https://store.cdbaby.com/cd/boxofmoxie12
Gwen Waggoner