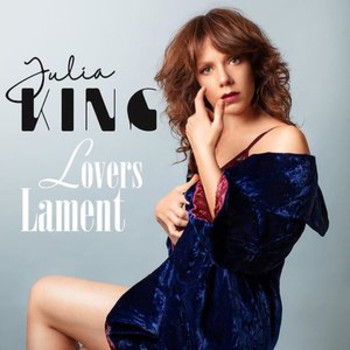 Julia King sings with a swinging, soulful passion on the incredible "Lover's Lament". Proving to be a deft storyteller, the blues color the entirety of the piece. The arrangement has a classic quality to it which proves to be nearly timeless. Done with the greatest level of care, Julia King ensures that not a moment is wasted. Over the course of the entire piece Julia King let the track slowly build, growing ever larger. A fantastic number of instruments weave into the whole song lending it a truly massive take.
A slow steady groove establishes itself quickly. Keeping things to the absolute minimum the timeless tasteful arrangement makes space an important ally. The small details truly add to the heft of the work, from the just-right hit of the guitar to the loose quality of the drums. By letting all of these have a dreamy quality at first it allows them to grow in strength and power. Her voice rests at the very center of it all from which all else flows. Patience proves to be an important ally as Julia King gets her voice into a blistering fiery sound for the final stretch of the entire track. Organs swell, as the volume increases and the fevered dream reaches a fantastic climax with a grand choir.
With "Lover's Lament" Julia King opts for a true dazzling sense of exquisite beauty with a song that explores loss and the feelings of despair that linger long after the fact.