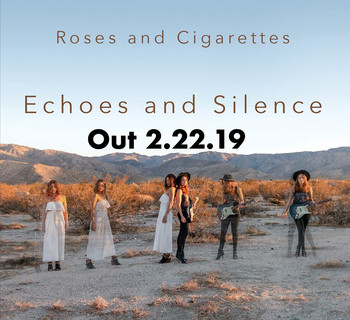 Roses & Cigarettes craft a rollicking good old rock n'roll spirit with the joyous "Echoes and Silence". Effortlessly blending country, folk, and the singer-songwriter tradition into a cohesive whole, the album knows how to have fun. Volume deserves to be blasted for the arrangement pack quite a punch, with the guitars warm and inviting, the drums virtually unstoppable. By far though the true heart and soul of the sound comes from the incredible vocals. Singing for a life lived to the fullest, they embrace everything and do so with the utmost of tenderness.
A great blast bursts forth on the album opener, the good time atmosphere of "Fast As I Can". Things get into a mystical sensibility on the multi-faceted beauty of "Echoes And Silence". Fully immersive "Back To You" serves as the highlight of the album, featuring a deep groove and a gorgeous melody. Vocals in particular have a playful, yearning quality to them. Going for a slight bit of funk is the nimble guitar work of "Bye Bye Blackbird". Confrontational to its core with just the right amount of defiance is the fiery soul of "Bones On The Ground". With a hint of chamber pop comes the soothing and aptly "Love Song". Warm and welcoming "California Going Home" chooses a laid-back mellow vibe. Neatly bringing the whole of the album to a close is the angelic "Whispers In The Wind (Stacie's Song)".
Graceful and gracious, Roses & Cigarettes delves into a beautiful world on "Echoes and Silence".