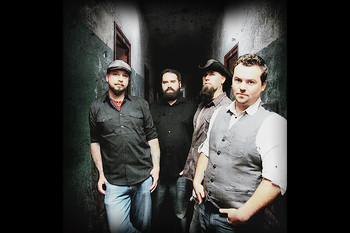 With soaring guitar riffs, tight instrumental arrangements and raw organic vocals, Colossal Boss certainly earns their name. A self-taught musical experience that spans over a decade, Colossal Boss has been influenced by legends alike, such as Aerosmith, Black Crowes, Stevie Ray Vaughn, Deep Purple and U2, melting them all into a pot of hard rock, classic rock, soul and just a touch of country to bring their sonic tsunami to life.
The Seattle, Washington band first formed under the name Midstokke but determined a reinvention was needed to give themselves a more appropriate name, and that's how Colossal Boss was born. They are composed of front-man Steven Douglas wielding powerful vocals and impressive harmonica skills, along with Ted Norris on guitar, Fraser Midstokke on Bass and Cory Olsen on Drums. They quickly released their debut self-titled EP in 2015, and have recently released their latest single, "Thinkin' and Drinkin'" which depicts them drinking until they make themselves lovesick (let's be he honest, we've been there, right?). Never ones to pretend to be something they're not through smoke and mirrors, they reflect authenticity in their music and muscular stage presence.
The video for "Thinkin' and Drinkin'" was shot at their local hometown bar, Bert's Tavern, a quintessential dive bar, and the setting for many nights of raucous fun and a bit of carefree debauchery. Director AK Romero focuses on a knockout blonde with some not-so-secret admirers who are smitten from the moment they see her strutting through the parking lot. As the band continues to toss a few back, they try to kill the butterflies in their stomach with shots of vodka. Intoxicated with love (and maybe a bit more) in the moment, they turn their fantasy into a reality with a friendly toast. Cheering to their new beginnings, she accepts the invite to their bonfire and together they light up the evening.