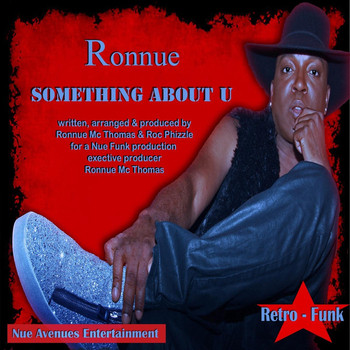 Kicking off the New Year with not one but two independent mixes of his new single "Something About U," Seattle-based R&B crooner Ronnue comforts the weary soul of funk fans everywhere with this new track that is steeped in a familiar sound re-stylized for a complex and cultured generation of listeners. "Something About U (The Retro-Funk Mix)" opens with a pins-and-needles melody that is absolutely chill-inducing. Bumpy textures create an acrylic backdrop that is only slightly low-fidelity as a rich vocal harmony wraps us in warm melodicism. Ronnue suddenly appears and wastes not one second before sinking into the first stanza with a confidence that is intimidatingly strong. The words fall from his lips effortlessly; his attitude is so relaxed, matching the mood of the music exquisitely.
"I don't really wanna be without you," he sings, as the chorus washes us in a bittersweet tonality that is soul-crushing if you've just been through a tough breakup and reaffirming if you've recently rekindled something special with a person you had feared gone forever. If you manage to make it through the tizzy of harmonious chords crashing into each other just beneath the searing vocal track without feeling completely enamored by Ronnue's voice, we might just have to check your pulse. Both in this version and in "Mix II," I found myself (even on repeat listens) audibly remarking on how incredible this man's vocal is, even when it's quietly tucked into the master mix alongside the other instruments. Ronnue has mad skills, and it doesn't take a critic like myself to recognize them.
The key difference between the first version of this single and "Something About U (The Retro-Funk Mix II)" is the addition of Magnetik in the latter cut, and what feels like a slightly beefier mix of the bass in both the intro and the chorus. In any case, Ronnue commands our attention in this track as well, with Magnetik's appearance only fostering further appreciation for the delicacy of this song's elaborate structure. I sincerely hope this isn't the only collaboration that we see between these two before the year is out – they've got a chemistry that is clearly organic and unvarnished by commercial interests. Ronnue has demonstrated an ability to play well with other artists before, but in my opinion it's never been at this caliber.
For as long as I can remember, I've been listening to funk, and it's played a crucial role in my life as both a hardcore music enthusiast and as a professional critic. As a student of the style, I can vouch that Ronnue is forging something that lives up to the high standards set forth by his predecessors, who created this genre decades ago as yet another means of expressing an element of soul that words simply cannot account for. "Something About U" is a hard-hitting slow jam from one of my city's most exciting rising stars, and if it's only a taste of what he's got in store for us as the future unfolds, 2019 could be the start of a whole new chapter in funk's storied history.
CD BABY: https://store.cdbaby.com/cd/ronnue5
Gwen Waggoner
The music of Ronnue has been heard all over the world due to the radio plugging services offered by Musik Radio Promotions. Learn more – https://musikandfilm.com