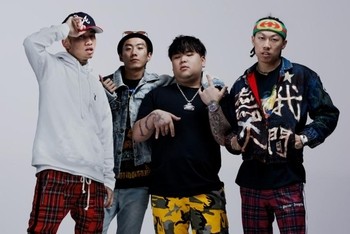 Higher Brothers – the first Chinese rappers to break into the American mainstream – are releasing their sophomore album, Five Stars, on February 22, 2019. Poised to be the biggest Chinese hip-hop album in history, Five Stars (like the Higher Brothers themselves) represents China, top-quality and global-internet culture.
Today, less than an hour ago, Higher Brothers also release their newest single and video, "Open It Up." Produced by LUCA, "Open It Up" is inspired by the popular mosh pit phrase that they first discovered during Rolling Loud Bay Area last year. Higher Brothers' flip of the phrase and use of a classic boom-bap beat is a nod to hip-hop history and harkens the globalization of the genre. Shot in San Francisco's Chinatown, where the group took over the block with a celebratory parade complete with lion dancers, the "Open It Up" video exemplifies Higher Brothers ability to incorporate western influences into their music while keeping their own culture and influences at the forefront.
Higher Brothers closed out 2018 with their second sold-out North American tour and the release of the video for their latest single, "16 Hours." Named after the flight time between China and America, "16 Hours" is a playful homage to Higher Brothers' journey to the west and was written and recorded during their first trip to America. In support of the "16 Hours" single, 88rising released an accompanying documentary by the same name that highlights stories from many young people as they detail what it means to be Chinese in America. The film is directed by Emmy Award-winner Christine Yuan.