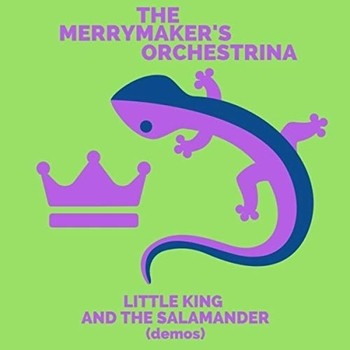 URL: http://www.merrymakersmusic.com/
In a cloud of smoke and with a bluesy strut that is straight out of the 60's, The Merrymaker's Orchestrina slide into focus with "Hey Everybody," the first track of their new albumLittle King and the Salamander (demos). Designed to draw listeners in through a gorgeous explosion of colors, textures and sonic grooves the size of tidal waves, Little King and the Salamander (demos) starts off strong and keeps kicking, taking us through the sultry pop sway of "What Fools We Can Be" and the swaggering studded beats of the eponymous "The Merrymaker's Orchestrina" without ever skipping a step. This is deeply meditative music with a fat bottom end, but it's anything but shapeless or unfocused.
"White Light and Lullabies" throws a seductive little stomp in our direction skewed by a tortured vocal that cries out in pain as if to demand closer attention to the surreal lyrics it's dispensing. It's not the jazzy tizzy of tonality that "Particle Craze" is, but then again neither is "She'll Do Anything," which is arguably just as stimulating to the mind without having to be half as showy and compositionally dynamic. As urgent as some of these songs might be in spirit, nothing about this LP is rushed; in fact, there's a patience here that is sadly missing from most mainstream rock.
The punk rock angst that comes alive in "Together" is one of the most visceral moments that the album has to offer, but its crass mood is softened by the Britpop-reminiscent "I'll Be" and exotically constructed "Jeepers Creepers," which features a spoken word part that sounds hauntingly like the late Grant Hart circa Flip Your Wig. The Merrymaker's Orchestrina obviously owe a lot to the old school of rock n' roll, but I wouldn't go as far as to call their style indebted to old fashioned, archaic formulas. Familiar they are, but these grooves, especially alongside this high definition tonality, are as modern and relevant as they come.
A howling "Definitely Not My Underwear" wakes up the raw, black and white grit in their sound, but The Merrymakers tend to stick to a pretty robust EQ throughout this record, even in acoustic numbers like "Slip Away." I actually think it's more noticeable in the stripped down songs, which weigh down the latter quarter of the album with a diversity that balances out the riff rock of the early tracks wonderfully. "Thinking of You," "Fade into the Night" and "I Have Always Been Here" combine to make a picture-perfect medley to finish us off and demonstrate just how well-rounded this band is from top to bottom.
Though it's far from the most elaborate of their recordings to date, Little King and the Salamander (demos) does the broadminded sound of The Merrymaker's Orchestrina justice and gives fans of the band plenty of rich, engrossing content to soak up in addition to the enormously successful Act 3. Things seem to keep getting better and better for these guys, and with so much momentum behind their music right now I wouldn't be surprised if this isn't the last we hear from them in 2019 – much to the excitement of critics like myself.
CD BABY: https://store.cdbaby.com/cd/themerrymakersorchestrina3
Gwen Waggoner