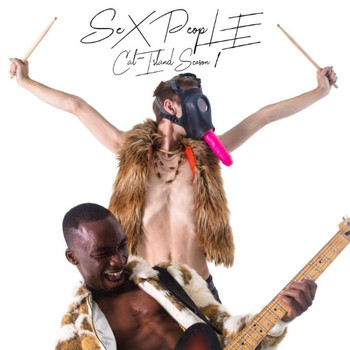 Synthesized melodies, sizzling vocals and plastic-faceted basslines forge a batch of surprisingly authentic grooves in Sex People's Cal-Island: Season 1, out everywhere this January. The debut EP from the much-buzzed Californian duo comes jam-packed with boisterous beats and cratering emotionality delivered through provocative lyrics and highbrow arrangements that defy mainstream pop's stylistic limitations. Anchored by the one-two punch of "Like a Queen" and "Sanctuary City," Cal-Island explores the sonic complexities of Sex People's sound, which is one part cerebral surrealism and another part focused dream pop. Nothing about this record is conventional – from the angular lines of "No West Left" to the jittery sway of "Mr. Emperor." At a glance, the most remarkable thing about Sex People's much-hyped debut is its ability to skew the familiar with the abstract, somehow finding a sweet spot in the midst of utter chaos; however, if we look closer, it's clear that zany cosmetics are but a taste of what this band brings to the table. They're not your parents' pop music, but they're something inventive and broadminded enough to really make an impact in 2019.
The music itself of Cal-Island: Season 1 is slickly produced and tends to take a backseat to the sublimely stylish vocals, which are particularly dominant in "The LA Air" and "No West Left." Despite the rigidity of the master mix, everything flows brilliantly, with each element of the finished product seeming to click into place before our very ears in more eclectic songs like "Sanctuary City." This record is very cohesive as a complete piece, but the consistency of the beats never becomes robotic or predictable. Though the central melody that ties "Like a Queen" together is flirted with beneath the surface-level ambience of "No West Left," it isn't recycled or repurposed as a foundation for the latter track. Sex People have cultivated an extremely hypnotic sound that is as dependent on disciplined droning as it is smart lyricism, but what sets their style apart from that of their contemporaries is rooted in their relentless use of calculated shifts in tempo and imagistic verses over plain, overused metaphorical jargon.
TWITTER: https://twitter.com/_sexpeople_
Loaded with more hooks than a bait shop and swing where you're least expecting to find it, Cal-Island: Season 1 is an exciting release for a stagnant pop scene in need of something fresh and new. Sex People don't hide behind any augmented smokescreens or borrow too heavily from their influences in this release, balancing out their wildly freewheeling imagery with a serious attention to detail that deserves to be respected in this era of the rushed recording process (only made faster through the advent of modern technology)
This is a fine EP that has all the hallmarks of an analogue classic with the polished finish of a more relevant slab of stereophonic gold, and with this basically acting as their official introduction to the international pop scene, something tells me they're going to have a lot of calls for a full length follow up in the near future. With grooves as appealing as these though, who wouldn't ask for more?
Gwen Waggoner