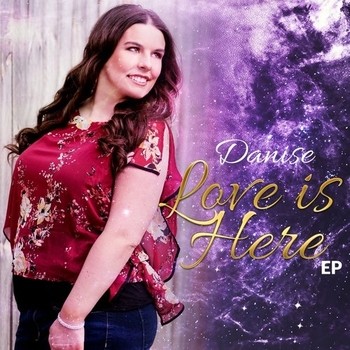 Danise Esswein's fiery spirit ties together the passionately felt "Love Is Here". Effortlessly combining elements of country, pop, rock with thoughtful Christian undertones the EP simply stuns. Guitar work goes for an intricate take, both going soft and hard, proving Danise Esswein to have quite eclectic taste. Arrangements build off each other, with each piece playing off the last. Best taken in as a whole the entire collection simply radiates with a tremendous amount of life. Melodies have a rich, fully-formed quality to them, almost cinematic at times.
Nowhere is this truer than on the powerful opener "Lord Hear My Song". Within this singular work, Danise Esswein's voice has a commanding presence. Drums have a tremendous physicality to them. Growing ever more potent, the piece serves as the highlight of the collection as the buildup gives it a majestic fervor. Things mellow out a bit on the reflective nature of "Sparkle In My Eyes". For this piece Danise Esswein has a meditative quality, as the song feels pastoral. An intense rush defines the prickly riffs of "Eternal Life". Clear-eyed and focused Danise Esswein's voice overflows with such emotion. Ending the collection on a high note is the hard-rock referencing riffs of "Following You". Highly ornate "Following You" has a great power behind it while it rolls through completely unhindered by inhibition.
Proving to be a fine storyteller, Danise Esswein explores narratives of compassion and care on the tender "Love Is Here".