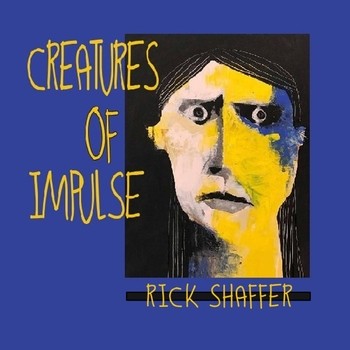 Rick Shaffer most certainly is a Creature of Habit, in a good way, because he sticks with a formula that works—KICK THE DOOR DOWN music. Shaffer continues to offer that distinct garage band effect that works so well and adds a classic touch to the overall sound. I had the chance to review Rick Shaffer's 5th solo album back in 2014, (https://skopemag.com/2014/07/23/rick-shaffer-misadventure), and knew then that this man was on a mission to get back to the basics of music.
'Creatures of Impulse' is Rick's ninth solo album and a very strong effort I must admit. The record was recorded in a Mississippi studio with a bunch of musicians just laying it all out and bouncing ideas around. I agree with the statement from the Tarock Music press release, (https://www.tarockmusic.com/2018_creatures_of_impulse__liner_notes/), that "There's looseness, a human element that is missing from many of the over-produced music that's released today." Shaffer & company definitely loosened up and unleashed unadulterated realness in its purest form. The new release offers 12 original songs with that heavy presence of bluesy rock soaking up the tracks. One other big element that was detected was the noticeable influence of Mick Jagger and The early Rolling Stones' blues recordings. I mentioned in my previous article that I picked up on what I called "Jagger-isms" and I'm hearing that once again with Rick Shaffer channeling Mick Jagger on vocals. I love the Stones and Jagger, especially their early material, so I truly embraced and welcomed this style. The album starts up with a catchy jingle jangle titled "Cool My Fear" that is unfiltered and gritty. The second track, "Flawed Perfection", gives the listener a smooth melody layered over gravelly vocals while "Let Go" has Shaffer and the players jammin' out and rockin' & rollin' down the tracks. Chuggin' along, "Stubborn Kind" displays a generously slowed down tempo unlike "High and Low" where Rick and his team are pickin' away and hitting all the right notes. "All I Need" is some good ol' fashioned blues but then jump aboard and cruise away on track seven, "Ride On Baby", where we're all just truckin' along. Rick Shaffer is digging deep on "Cry Any Longer" and not holding back on track nine, "Fool's Dream". The song "Part Time Love" supplies a cool vibe that one can fall in love with on a regular basis while track 11, "In Front of You", showcases the boys bringin' it on home. The album ends in a wildly fresh manner where there is plenty of high energy to go around.
In the end, 'Creatures of Impulse' gives you that straight-to-the-core, garage blues/rock presence that can be appreciated by many. We need artists like Rick Shaffer and records like 'Creatures of Impulse' Today because it proves that we don't need glitz & glam and overproduced, carbon copy recordings. Music is in the ear of the beholder and I'd say Rick Shaffer is tuned in at just the right speed with 'Creatures of Impulse'.
By Jimmy Rae (jrae2@att.net)