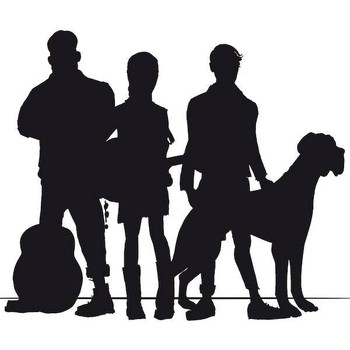 Zurich's Freunde channel the gods of American country music in their new songs "My Heart is a House" and "Probably Maybe," but make no mistake about it – their sound is anything but a throwback. Fusing together influences that span both the western and eastern folk lexicon whilst compressing big melodies into sly, unpredictably brooding harmonies and rich tonality, Freunde could easily be described as explorers of the sonic frontier just as much as they could be dubbed European rough riders in search of that magic which is so sorely absent from the country charts of today. "My Heart is a House" starts off on a big, bold note and consistently digs itself deeper and deeper into the girth of its sterling melodicism with the utterance of each line in its wistful, spellbinding lyrics. We're drawn so close to the artistic flame burning within the group that were it not for the pointedly slick production value of this single, it would have the same raw, uncaged energy you would find in a live recording (if not more).
The music in "My Heart is a House" is warm, romantic and climaxes in every chorus, leaving listeners feeling embracive and completely connected with the singers by the time they reach the finish line. On the flipside, "Probably Maybe" is a bit friskier, fun and easygoing. Built on the foundation of a jubilant rhythm, we waste no time getting into the fast-paced exuberance of the latter track and soon become engrained in its contagious happiness. The two songs go together so well, even though they couldn't have been designed around much more conflicting narratives. One thing is undisputable; whether Freunde are your kind of band (and I mean band in the loosest sense possible) or not, they take what they forge in the studio so seriously that to call them anything less than heavyweight contenders in their scene would be next to criminal. There's too much detail, too many minor intricacies emphasized in the grander scheme of things to come to any other conclusion. They aren't coming into stardom out of the swamplands of Florida or Louisiana, but with music as fundamentally genuine as what they've currently got in their repertoire, I don't think it really matters where they call home.
You don't have to be the world's biggest country music fan to fall in love with "My Heart is a House" and its awesome companion track "Probably Maybe," but I will say that diehard disciples of the genre are going to instantly notice something special about this group's style, which I think resonates with a country of yesteryear in all the right ways. There's nothing, whether it be external filtration or an obvious commercial-tinge, to get between Freunde and their audience in these two songs. There is only the music, the message born of its identity and the listeners who have come to receive it. Not overly engaging but definitely a cut above what I've experienced so far in late 2018 and early 2019, Freunde's latest set of releases is going to have folks talking for a long minute – and a single play of either song will give you a pretty good clue as to why.
YOU TUBE: https://www.youtube.com/watch?v=NKM43aYzeYs
Gwen Waggoner
The music of FREUNDE has been heard all over the world due to the radio plugging services offered by Musik Radio Promotions. Learn more – https://musikandfilm.com/