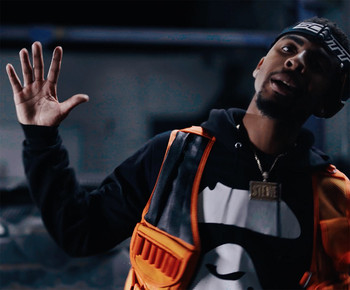 Stewe is a present-day renaissance man. He brings talent and expertise from across the entertainment industry to his flows, constructing lyrics that are throat-cutting. Refusing to take anyone alive, he has earned his title as a host, artist, actor, and entrepreneur with his business ViceTeam. As a versatile force, he creates a crisp and modern sound that isn't afraid to be audacious. With his dark themes creeping over into his sultry R&B, his love songs come with a twist in his artistically enmeshed world.
Representing Detroit since he was 16, Stewe has become one of the youngest talents to rise up in his city. He's been a part of multiple outlets, including starring in the Detroit based film Corner Store and Buffed Up: the Movie. Finding his niche in everything he set his mind to, his hard work led him on the path to be the new generation's Diddy. His most notable accomplishment is the creation of ViceTeam, an entertainment company that has thrown over 50 events that have included celebrity appearances. His parties aren't the only events that reach maximum capacity; his live shows bring the heat with performances of hit single "Let's Be Honest" ft. Icewear Vezzo and songs from his debut EP, Love Me, Love Me Not. He's grown a massive social following and worked with Control Detroit to host interviews with celebrities such as Trey Songz and Teyana Taylor. He is also currently being booked for motivational speaking, anti-violence tours, and concerts such as B.O.B. and Big Sean- not to mention, he's currently an active on-air personality for Radio One's Hot 107.5 with DJBJ Mr. 3525.
Stewe has graced us with his latest visual work of art, "See You Later", from Love Me, Love Me Not. The music video opens up with his previous love interest painting the scene of hurt without remembrance. Unable to reach her phone, Stewe embarks on a motorcycle chase as he searches for closure. The ghost of the past clouds his judgment as he tries to rescue her but she doesn't need to be saved. As she leaves on her own accord, he accepts that he will never find solidarity chasing people who don't see him- rising up once again from his own perspective.