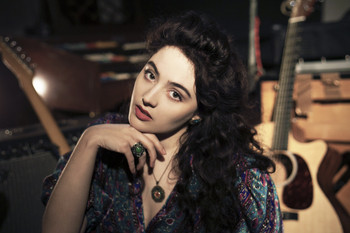 Jazz singer, Tatiana Eva-Marie, was born into the music world. Surrounded by music and an artistic lifestyle, her vocal talent seems to come natural. She was recently named "one of the best young singers around" by the Wall Street Journal and listed on Vanity Fair's rising jazz stars.
1. How would you classify your music?
Well, as much as I'd rather not classify it in restrictive terms, the music I play is for the most part inspired by the Parisian music scene of the 1930s and 40s. I consider that time and place to be at the crossroads of many different types of music which have blended and communicated with each other in interesting ways: French chanson réaliste from the streets of Paris, jazz from American expats and folk music from Eastern Europe. The style of music that Django Reinhardt and Stéphane Grappelli made famous – known as "Gypsy jazz" or jazz manouche – is a result of this musical kaleidoscope. The music I play is inscribed into that tradition but also influenced by my time spent in New York City collaborating with musicians of various backgrounds and provenances.
2. Who are some of your top 5 jazz influences?
Louis Prima for swing, Teddy Wilson for elegance, Anita O'Day for abandonment, Tommy Dorsey for romance and Frank Sinatra for brazenness.
On the French side of things Henry Salvador, Jean Sablon, Boris Vian, Yves Montand and Juliette Greco. For charm.
3. What do you want fans to take from your music?
Childlike joy and romance, above all. If in any small little way I can inspire anyone to break the cynical, prepackaged mold that has been imposed on my generation by corporate royalty, then my mission is complete.
4. How's the jazz scene in New York?
It's surprisingly young. There's a lot of playing going on, a lot of exchange of material and ideas, a lot of philosophical talks about music. It's a microcosm with little bubbles in it, but mostly two important groups, the musicians who play traditional types of jazz and the musicians who play more modern jazz. In recent years, these two groups have been mingling more than before and beautiful things have come out of those interactions.
http://tatianaevamarie.com/
5. What do you like most about playing live?
I like the feeling of uncertainty. It's a game with an unknown player. I get a real thrill playing the audience, trying to anticipate how they will react, listening to their silence, creating suspended moments… I love feeling that it's going to be a great night but I also enjoy trying to loosen up a stiff audience. It's a challenge and a party every time. And I get to perform with my best friends and reinvent the music with each concert, which never fails to bring me an immense feeling of elation.
6. Can you tell us about the Django Birthday Celebration concert you are presenting at Dizzy's on January 22nd?
I am very excited about this concert! Django Reinhardt and Stéphane Grappelli have been part of my life soundtrack since I was a child. My band (Gabe Terracciano on violin, Vinny Raniolo on guitar and Wallace Stelzer on bass) will be performing Django's compositions and songs that contributed to his fame at the beginning of his career, when he was collaborating with singer Jean Sablon. We are inviting Olli Soikkeli, a young guitarist from Finland, as our special guest. He is a Django specialist, a true fast-fingered wizard, and will be perfect to channel the right manouche energies.
7. How have you evolved as an artist over the last year?
This past year has been a real roller coaster ride for me, with lots of spiritual and emotional shoals to navigate, but professionally it's been a wonderful year. I've never had so many adventures, travels, memorable concerts… Reconciling the downs of personal life with the happiness of having more success in my career has been a truly incredible experience and has helped me grow as an artist. I don't think I've ever felt truer to my own soul than now, even though the exploring was exhausting. I have found more depth and subtlety in my singing and have shed my desire to be musically polite, which is akin to finding freedom, for me. I have also added many new emotions, new questions, new sights, tastes and sounds to my collection box. I expect very beautiful things to come of this in the near future.
8. If you could meet, play a gig, co-write a song, have dinner, have a drink with any band or artist who would it be?
I would want to meet Freddy Mercury, play a gig with Louis Prima and his band, co-write a song with Hoagy Carmichael, have dinner with Mozart and have probably more than one drink with the Rat Pack.
9. What's next for you?
I will be back at Dizzy's from February 5th to February 9th as a guest singer with saxophonist Patrick Bartley and his band for his Judy Garland tribute. We have collaborated on many musical projects together and he is a force to be reckoned with in today's jazz scene. We both share a deep love and admiration for Judy Garland and I am very excited to explore this repertoire with him.
Here is a link to buy tickets –
https://www.jazz.org/dizzys/events/8588/tatiana-eva-marie-django-birthday-celebration/