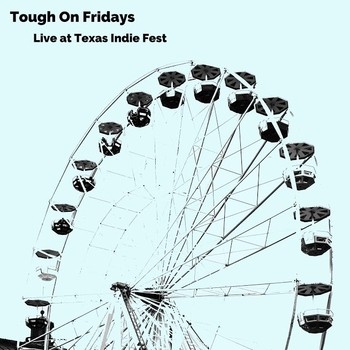 I got my first taste of Tough on Fridays back in August 2018 when I reviewed their single "The Waywards", (https://skopemag.com/2018/08/02/tough-on-fridays-the-waywards).
What I heard then was one uninhibited sound by two strong females living up to Cyndi Lauper's famous song "Girls Just Want To Have Fun". Tough On Fridays were having fun for sure sure but more importantly, the duo was playing with a purpose and authority. Tough Then and Tough Now…So Tough On Fridays fits them and can be enjoyed any day of the week.
The core of Tough On Fridays is Katie on vocals, bass & guitars and Caleigh on vocals & guitars plus the lineup now includes Mark Griffor on drums. Mark adds some extra punch to the circle and proves to be a welcome addition to the band. Katie and Caleigh have been friends since childhood and have been wrapped up in music for a long time. These Power-Packed Girls are full of Pep & flavor and really just live it up in the moment when performing live at Texas Indie Fest. Just as before, the live set showcases the TOF package as energetic, alternative goodness. The listener will also get that raw, garage band appeal from Tough On Fridays and just like MC5, they look to "Kick Out The Jams". Hailing from Georgetown, Texas, TOF is literally right at home on "Live at Texas Indie Fest". The first song played is "Retrospect" and here you will get Poppy Punk with Revved Up Rhythms where it can best be described as Hole Meets The Cranberries Meets Blink 182. Venturing into the next tune, "Little Italy", those driving rhythms from the bass, guitars and drums continue while TOF serves up one spicy & meaty sound. Katie and Caleigh provide some sweet, edgy vocals on "Little Italy" giving the song that colorful dose of attitude. One final number on this album is titled "Lush" and perfect name because the track is certainly fresh and just dreamy & rich in texture & tone.
Tough On Fridays delivered the goods on their latest release, "Live at Texas Indie Fest". The beauty of this live recording is that you could sense the pure joy coming off of all three band members as they were just playing uncut Indie music for like-minded fans in The Lone Star State. If it's true that everything is bigger in Texas, then Tough On Fridays is not to be taken lightly with their Full & In-charge style.
By Jimmy Rae (jrae2@att.net)