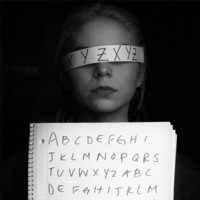 This all-girl band is full of mighty power as they're kickin' down the door with their latest release titled "The Waywards". The group is still in its infant stage just being formed in 2017 down in Georgetown, Texas. Tough On Fridays is equipped with Katie on vocals, bass & guitars and Caleigh on vocals & guitars. Surprising that such a BIG sound can come from just two, little ladies but the proof is in the pudding!
The single is upbeat to say the least with energy galore pouring out of Katie and Caleigh. I was hearing elements of Pop, Punk and Rock coming from Tough On Fridays where a heavy Blink 182 influence was in place. "The Waywards" made me want to break out my 'Enema of the State' album and jam out like it's 1999 again! Fast and in charge is the best way to describe Tough On Fridays and their emphatic sound & style. These girls came to play and they are not messing around on the new song. "The Waywards" offers a fun & catchy beat as this duo sings and plays with authority. Tough On Fridays is full of Pep and fresh vitality as it radiates off of them.
The name of the single should be Onwards and Upwards because that is exactly where Tough on Fridays is heading! "The Waywards" was just released yesterday on 08/01/18 keeping the summer alive with Poppy Punk Persuasion. If you're looking to jumpstart your day and spice up your summer play list, then I recommend adding Tough On Fridays and "The Waywards" for your listening enjoyment.
By Jimmy Rae (jrae2@att.net)