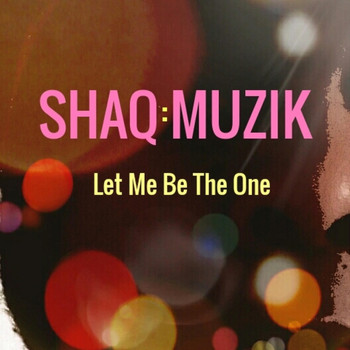 On an ethereal wave of glowing guitars and decadent synthesizers, ShaQ:Muzik comes careening through the stereo and into our hearts with the all-new single "Let Me Be the One," a soulful, dreamy love song that captures the warm, comforting feeling that arises only through finding the love of another. ShaQ:Muzik doesn't waste any time digging into his lyrical narrative and dispensing some of the swankiest verses heard in 2019 so far, but this track doesn't center on his fine vocal abilities alone. Designed to showcase his immense studio prowess alongside his stunning command of the microphone, "Let Me Be the One" is a bludgeoning tour de force that will leave any diehard fan of R&B, melodic hip-hop and trance music feeling more than satisfied.
The essential concept behind this single is rooted in funk, but it's an extremely slowed down variation of the style. If you listen closely enough, you too will find traces of Parliament and George Clinton wading around in the rich abyss that makes up the rhythm of the music. We open with gently strummed guitars that slowly evolve into a synthesized wall of sound that is unforgiving and inescapable. The grooves are seductive, but not as much as the tonality of the music itself is. We're constantly drawn closer to this sonic aphrodisiac that ShaQ:Muzik is so gleefully dangling before our ears, and for every step that we take towards it, the instrumentation seems to teasingly recoil from our advances. Instead of becoming frustrating, the tension lends to the excitement being created by the flow, and we're left on the edge of our seat waiting to see what happens next.
These beats are rather understated when you compare them to the bulk of what you'd find when scanning the FM dial for similarly-styled music. As minute as it may be in the grander scheme of things, the rhythm that powers the molten hot core of this song is defining all the same, balancing out some of the more excessive qualities that give this single its cerebral, neo-psychedelic framework. I like that while ShaQ:Muzik is clearly a postmodernist, he isn't snobbish in the way that he chooses to interpret this strain of (typically) gluttonous electronic music. For every yin in this song, there's a yang to level the sound out, and I have no doubt in my mind that it was a deliberate effort on the part of the artist to make this the case.
Whether you're a longtime fan of ShaQ:Muzik or are just finding out about his unique style today through "Let Me Be the One," there's no debating the infectiousness of the melodies that he shares with us in this latest single. "Let Me Be the One," as grandiose and bass-greedy as it may be, is an exquisitely realized ballad that crosses the primary gap between artist and audience, making the emotions of its composer come to life inside of a mere four minutes of playing time. ShaQ:Muzik is proving to be a heavyweight contender in his scene and abroad, and this song only adds to his increasingly impressive reputation inside the industry.
Gwen Waggoner
The music of ShaQ:Muzik has been heard all over the world due to the radio plugging services offered by Musik Radio Promotions. Learn more – https://musikandfilm.com/