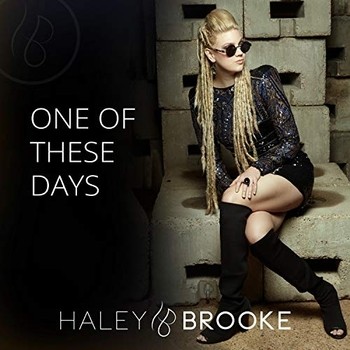 FACEBOOK: https://www.facebook.com/iamhaleybrooke/
Weaving a smooth sonic tapestry with her confident and commanding voice, Haley Brooke shines like the star she is in "One of These Days" her new single and follow-up to 2017's "Where You Are." Built on the foundation of a gentle rhythm that slowly blossoms into a somewhat orchestral arrangement of cascading instrumentation and tempered vocals, "One of These Days" shows off the singer's broad skillset wonderfully and expands on the colorful textures we first discovered in her debut. Sporting a studded groove that is bound to make newcomers fall in love with her unique palate and sprawling vocal range, Brooke's latest release proves that she's more than just another player in an explosive pop scene entering 2019 – she's a legitimate contender who is to be taken seriously.
Brooke's vocal is swaggering and features a rich elegance in this song that wasn't quite present in "Where You Are." The timbre of her voice is bonded to the melody of the fragile percussive sway in the track but rules over everything in the master mix. While the spotlight steadily remains transfixed on her singing, a powerful wall of sound generated exclusively from the muted guitar and piano in the background overtakes us and creates a mood for her words to add definition to. Nothing about this single is muddled; from the production to the execution to the black and white breakdown of the arrangement itself, "One of These Days" is one of the more meticulously crafted pop songs I've reviewed in a while – much to the benefit of its powerful content.
The beat that drives this track is perhaps the most understated element of the entire piece. There's no aggression, yet there's an implied urgency that keeps the song flowing from start to finish. It's almost as if Brooke is chasing after the emotional narrative in the verses in slow motion – the music is powerless to stop her from making the choice to walk away from this relationship, but her own lyrical hesitance suggests that she's only half-prepared to make this decision, much like the majority of us who are faced with a critical (but uncomfortable) choice presented at the crossroads of love. Instead of relying on words alone to make her point, Brooke utilizes every component available to her here and produces a genuine anthem of lament skewed with optimism and empowerment.
Fans of subtle but accessible pop with a smart edge should check out Haley Brooke's "One of These Days" the next time they're looking for new music. It's a solid offering from a promising young talent who, despite having every opportunity to do so, goes out of her way to reject the mere notion of blending in with the masses, instead preferring to carve out a sound that is truly hers and hers alone. With this sweet song to start off the year, I have no doubt in my mind that 2019 is going to keep Brooke very busy both in and out of the studio. She appears to be getting a firm grasp of how to professionally navigate both realms just fine, and judging from what I hear in this track I can only assume that her next release will keep the impressive momentum rolling.
AMAZON: https://www.amazon.com/One-These-Days-Haley-Brooke/dp/B07KGJMD1M
The music of Haley Brooke has been heard all over the world due to the radio plugging services offered by Musik Radio Promotions. Learn more – HTTPS://musikandfilm.com
Gwen Waggoner