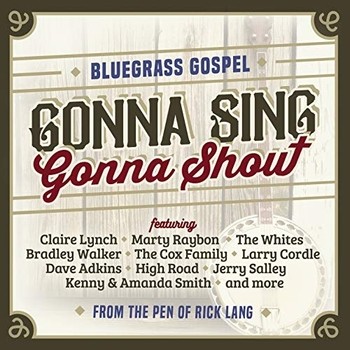 DAY WIND: https://daywind.com/music/gonna-sing-gonna-shout/
In the most trying of times, music can be a beacon of hope, something to cling to when the rain doesn't seem to ever want to stop. Gonna Sing, Gonna Shout is a compilation of various bluegrass artists including Claire Lynch, Jerry Salley (who also produced the record), The Cox Family, Marty Raybon, The Whites and Larry Cordle, who come together to play the inspiring gospel music of songwriter Rick Lang, whose words have been recognized universally as some of the most evocative in all of the genre. Though 2018 hasn't been any easy year on any level, songs like "I've Read the Book," "I See God," "Heaven's Back Yard" and "There is a Light" will remind you that there's a light that never goes out waiting on the other side of the darkness.
Some of these songs, such as the title track and the opening salvo "Thinkin' Outside the Box," lean a little more heavily on traditional bluegrass grooves than others like "The Back of the Church" do, but all of the tracks possess a powerful lyrical bite that is easy to become entranced by. Claire Lynch's performance in the title track is sublimely backed by a troupe consisting of Jerry Salley, Brandon Rickman and Josh Swift, and all of the players harmonize amazingly well together, making the verses so much more tangible. As solemn as "They Were Fisherman" might be, it's nevertheless just as poetically highbrow as anything else this LP includes.
The production quality of Gonna Sing, Gonna Shout is so detailed and vividly crafted, and you can tell that Jerry Salley spared no expense ironing out even the subtle intricacies in each track. The Cox Family lays into "There Will Be Singing" with a patience that is remarkably endearing, making the exoticism of the strings all the more exciting and captivating. The Whites' "Don't Tune Him Out" marches along to an affectionate beat that is never drowned out by the majestic vocal, which is all the more impressive when considering the swagger of the chorus.
"Thinkin' Outside the Box" and "Henry Clayton Parker" were two songs that really struck me upon first giving this album a spin, and it wasn't just because of their appealing (though vastly different) lyrics. "Thinkin' Outside the Box" starts us up with an ascending melody that crashes into a melancholic, string-woven ceiling, leaving us begging for more the second that Dave Adkins and company cease to play. Bradley Walker's "Henry Clayton Parker" hits home with its intrepid narrative, but it's those honeysweet vocals that kept me playing it on repeat. There's so much yearning in this record, but it's consistently flanked with a righteousness that makes anyone feel like there's an undying hope out there to be celebrated.
Fans of solid gospel music would be quite wise to pick up a copy of Gonna Sing, Gonna Shout this season. It's old fashioned swing peppered with a contemporary stylishness courtesy of Jerry Salley's spot-on production, and though potently emotional and melodically addictive, it never trips into the pitfalls of indulgence. Most country music enthusiasts will be familiar with the bulk of the artists who contributed to this LP, and what they collectively accomplish here is arguably as good if not better than anything they've produced on their own in the studio before.
AMAZON: https://www.amazon.com/Gonna-Sing-Shout/dp/B07HNVJKM4
Gwen Waggoner