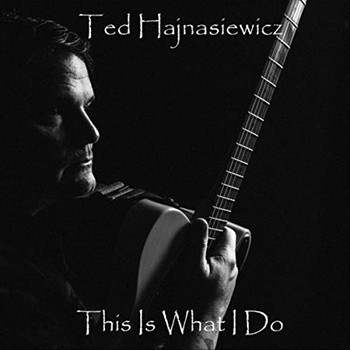 In the opening track of Ted Hajnasiewicz's new album This Is What I Do, "This Town is Not for Me," a crude, deafening silence is shattered by the smoky vocal of Hajnasiewicz, which slowly but surely wraps around us like a warm blanket in the dead of winter. The pain in his voice is inescapable; the melody being created by the acoustic guitar's harmonizing is all that we have to guide us into the brighter gallop of "If I Could Leave This Place Tomorrow," the first appearance of a familiar country sizzle that will become a centerpiece of the album. These first two songs are instantly recognizable among followers of Hajnasiewicz's storied career, but they're only a taste of what This Is What I Dobrings to the table in spades.
FACEBOOK: https://www.facebook.com/permalink.php?id=138319018474&story_fbid=10157635366103475
A John Cougar-esque strut comes to us bursting at the seams in the first few percussive bars of "Wedding Coat," one of the most electrifying songs on the record. The surreal duet in "I Give Myself" is a lot more understated and subtle by design, but it doesn't leave us aching for a more amplified rendition of its stylish tonality at all. The volume gets cranked up again for the rollicking stomp of "Stars and the Sea," another one of Hajnasiewicz's more popular tunes, and it's at this point that the master mix of This Is What I Do takes on a much beefier, violent shape. The equalization of the strings in "My Heart is in Memphis" isn't quite as bludgeoning as what we find in "Stars and the Sea," but don't let its minimalist cosmetics fool you – its intricacies are vast and heavily magnified for our enjoyment here.
"Longing for the Northern Wind" is one of the most moving acoustic rock songs I've heard in a while, and frankly sets the stage for "Oh! Sweet Love" and the vintage vibes of "Go Easy on Me" like no other track could have. "Oh! Sweet Love" starts off with a gilded guitar strum that is captivating and yet riddled with this tragic feeling that is all at once tear-jerking and powerfully motivating. "Go Easy on Me" is a little more straightforward, making its mark through conventional verses that grow into an anthem in just under five minutes of play.
"You Will Find Him on a Mercy Seat" echoes, ebbs and flows under the pressure of the bass-heavy mix, but try as the levels might, there's no snuffing out the flame that its elegant lyricism ignites. That flame spills over into the folk harmonies of "Burning Bridges" and brings This Is What I Do to an exquisite conclusion, but even when the guitars stop crashing into each other and the vocals fade from the colorful sonic canvas that they've adorned and made into their own personal kingdom, the statements that this album makes stay with us for hours, even days on end. This Is What I Do is an unvarnished, untampered look inside the soul of a songwriter who literally feels everything that he sings about, and what it lacks in mainstream polish it compensates for with a magnetizing honesty and reflective tone that speaks to the very essence of the human spirit.
AMAZON: https://www.amazon.com/Go-Easy-on-Me/dp/B07L18H3RV
Gwen Waggoner