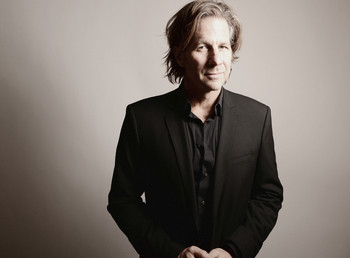 Just as the late, great Ricky Nelson sang about a "Travelin' Man", Brad Cole is living up to this classic song title as he's played over 100 shows over the last two years. The NYC-based artist loves to perform music live, meet new faces and see new places; it's the "big payoff" for him. With Brad Cole's latest release titled, 'Lay It Down', he urges people to "not listen to it on their laptops" but instead "listen on a good system goddamn it!!!" With 2019 almost here, Brad Cole looks to ring in the New Year by simply playing a lot and writing new music. Most importantly, he recommends to people to just "smile more, inspire and be inspired". Now let's pop the champagne bottle and celebrate because that's something I can drink to!
J Rae: I can tell from your Bio that your music embodies many different elements and that you're an eclectic artist. But, if you had to choose just one style that you just can't live without what would that be?
Brad Cole: Ha, well I'd say Jazz, more specifically, Bossa Nova. The act of improvisation is what defines me and the world I live in. Yes, there is discipline, and it's combined with the texture of music. For me, it's improvisation, riffing on a theme (musically and lyrically). The funny thing about Bossa is that it's folk music with a groove and I don't understand Portuguese, so the melody has to be really strong to keep my attention and ear-worm me. Look, I like all music but you're asking me to choose, so there it is :)
J Rae: When did you catch the music bug and to go off of that, when did you decide you wanted to become a professional, full-fledged musician?
Brad Cole: It's funny because I started playing, writing songs and singing after I got out of college. I played in a few bands in Chicago but still had a day job. The true confluence of things happened in my 40's. People close to me died and I learned that there are different levels of truth in life, deeper truths in our souls to answer to. I lost my job, got divorced, got hurt financially pretty badly and then I felt I needed to honor the language of music. I figured that if I did not take this language or myself seriously as a musician, noone else would either. I let go of many of my trappings and allowed myself to be inspired by art and artists. In 2009, I began to cast off much of my old life and knew there was no net or no turning back, and made it a goal to tour on a national basis.

J Rae: It is said that your recent release titled 'Lay It Down' is perhaps your "most soulfully eclectic and cohesive work to date." Why is that and what is it about this new album that has it all and so much to offer, in your opinion?
Brad Cole: Over the years and with my four previous records, I seemed to be chasing a sound. With 'Lay It Down', I created a sound. I pulled many stylistic elements together and that, in my mind, worked for me, but did not make sense symphonically. The challenge was to make it work symphonically with a familiarness in the music, yet with something unique in the arrangements and instrumentation. I interviewed 5 producers in LA and Nashville and with each one, I explained my vision of combining Jazz, Dub, Rock and Bossa with old Soul and R&B. It wasn't until I met my producer Joe McMahan that I thought I could ever pull this together. We put a lot of time in to pre-production, did a lot of listening for sounds, especially harmony references. I did not want this to be avant-garde or abstract and was certainly not going for radio hits…but I did want to create a sense of wonder and atmosphere and I think we did a pretty good job.
J Rae: What do you hope listeners will grab from 'Lay It Down' and how has the response been thus far for your fourth, full-length record?
Brad Cole: The response has been great, in a broader sense. My previous records were more s-sw/rock/Americana-oriented, so this was a departure for most of my fans. Many of them went a long for the ride, but I could tell it was not unconditionally loved by the existing fans that I communicate with. Then, in the broader sense, I received great reviews, substantial airplay and a growth within my fan base. Some positive, some negative. I just want listeners to enjoy being in the vibe of this record…and not listen to it on their laptops!! Listen on a good system goddamn it!!!
J Rae: I'd also love to discuss your 2017 release titled 'Bossa Blue' because it seems to offer a wide array of musical tastes. Can you tell the Skope Readers more about this recording project and why it's so unique?
Brad Cole: So, there is no album called Bossa Blue. It's actually a side project for me where I'm reinventing a bunch of my favorite tunes with a stylistic mash-up of Bossa, Samba, Soul and Blues. It's essentially the same feel as my last record, 'Lay It Down', but its all covers. Much of this was inspired by playing with so many extraordinary jazz players, kind of opened the door for me to do all of these arrangements. We do Brandy Carlyle, The Beatles, The Police, The Killers and boatloads of songs in between. Late 2017, we put together a Tribute To The James Taylor Songbook. James Taylor is a great writer and performer, but a lot of his production over the years was kind of too soft to me…we've given these tunes a major overhaul and they are really fun to play. Everyone in the band sings and we've concocted some great vocal arrangements as well. At this point, I don't have any plans to do a record. We've released some live studio vids on social media, but if you are interested in the Bossa Blue experience, you have to come to a show.
J Rae: I read that you tour extensively, playing over 100 shows over the last two years and first want to ask what are some standout moments at these venues? What location(s) had the best audiences/vibes and any crazy, funny and/or wild stories while on the road?
Brad Cole: Well, I drive a lot!! I see a lot more of America than I used to and I dig that. Meeting fans and other players is the big pay off for me, so I guess its "the hang". Most of my shows are solo and I typically will bring local players up on stage and cool shit happens. I do a lot of house concerts and they are great because they are so intimate. And when I have the band, the golden moments are about transcending the song because we're feeling it together. But, specific stories and specific venues, there are just too many….again like the Bossa Blue thing, you've got to be there and be in it with us.
J Rae: You live in NYC but I see that you have a deep connection to the Chicago music scene, so can you tell the Skope Universe how this Chicago connection developed? Also, what are the major differences between playing in the Windy City vs. The Big Apple?
Brad Cole: I grew up in Chicago, played the club/festival scene for 20 years. I moved to Nashville in 2011 and then up to NYC in 2014. NYC is tough. I sometimes feel really small there, I've had my ass kicked. Folks are busy, most of the venues are all about numbers: filling seats, and I think it's harder in NY because people have so many choices. But NYC inspires me, so many great players to see and to work with. I sit in late night jazz haunts singing standards with players that blow my mind. You have to go out, it's an effort to make shit happen, where as Chicago is really more about friends and things being a little more organic. Each town has its pros and cons. I think I'm lucky to have tasted all the places I have been.
J Rae: What are some of your other hobbies besides music?
Brad Cole: I like cooking…also, I have a little place upstate, close to Rhinebeck and I'm in to reclaiming old barn wood and building things….and listening to vinyl.
J Rae: Any big plans for 2019 that you can share with the Skope viewers at this time?
Brad Cole: Play a lot, it's a great stress reliever. Also, writing for a concept album and moving that forward.
J Rae: This last question/thought has become a staple for my Q&A features as of late and so without further ado! I always like to end on a positive note now and so my 2-part question is: what are you most grateful for in your life currently AND what do you recommend to people out there to stay in a good frame of mind especially during the holiday/Christmas season?
Brad Cole: Wow, Holidays are rough for me. I get overwhelmed with the traffic and commercialism and shitty holiday music. THUS….I'm grateful for those people around me who allow me to love them…and not just during the holidays. :) But my recommendation for getting through is to smile more, inspire and be inspired. – Thanks J, This has been fun :)
By Jimmy Rae (jrae2@att.net)