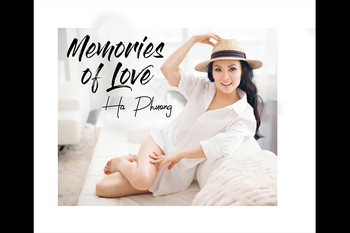 Ha Phuong chooses love over fear as she embraces the world with a forgiving heart and an open mind. As an all-powerful creator, she is a singer, actress, producer, philanthropist, wife, mother, sister, and most importantly, a New Yorker. She has started her own foundation and brings harmony into the lives of underprivileged children to change their perception of what the world has to offer. Channeling her courageous and all-inspiring attitude into her music, she encourages us all to embrace our troubles through creative expression. Ha Phuong epitomizes the Renaissance Woman of the 21st century.
http://instagram.com/HaPhuongArtist/
A native of Vietnam, Ha Phuong has been inspired by her upbringing and discovered the power of performing by singing with her two sisters. Since then has released twelve solo albums and numerous CDs in Vietnam and the US. As a triple threat, she also has a strong acting and movie producing career with her soon-to-be-released dramatic thriller Finding Julia. Refusing to let the fame turn her cold, the profits from all of these ventures are earmarked for her two philanthropic entities that are meeting the needs of children in Vietnam and the United States. She founded The Ha Phuong Foundation which provides musical instruments, curriculum, and arts-based vocational training for underprivileged children. Not only that but she has been named the top donor to UNICEF and a huge force in the Vietnam Relief Effort. An accomplished and powerful woman, she sets a great example for her two precious daughters, Diana Phuong Chu, 8, and Angelina Tieu Phuong Chu, 6.
Adding to her list of charitable deeds and creative endeavors, she has given us all a new music video, "Memories of Love." Directed by Alexey Wind and Clementine Nguyen, she universally connects with listeners through her songs inspired by the love that always prevails through the darkness we may face. Dedicating the track to her loving husband, the video opens up with an altar scene gone wrong. Her fiancé desperately tries to get to his own wedding despite a flat fire, but he is hit by a car, leaving her confused and hurt. Refusing to abandon him, she sits by his bedside in the hospital, finding strength in their romance. Soon enough, their memories bring him back into consciousness as love is an all-powerful force, opening both their eyes to the power inside of them.