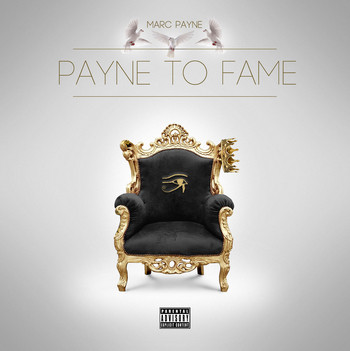 As soon as I hit play, I'm immediately thinking of the classic Salt-N-Pepa jam, "Push It", because I hear a female voice, with loads of Sass & attitude, saying "Push It Real Good". So Marc Payne has my attention right off the bat before he even enters the picture. I "Push the Button" and I'm pumped up from the start!
Marc Payne is an artist, poet, author, beat-maker & producer from Los Angeles, California with plenty of rhymes to spill. I picked up on the fact that Marc Payne has one slick style and city swag to his delivery & flow. I'd go so far as to say Payne could be referred to as "Quick Draw McGraw" on the mic with his fast 'n' fierce rhyme schemes. Marc brings fiery beats to the table and sets the stage ablaze with one push of the button! I'm sensing a potential Club Mix here on "Push the Button" with the slam-dunk hooks that will make you bounce for days.
This is a featured single off of the release titled 'Payne To Fame', which has seen recent success on the NACC (North American College & Community) Hip-Hop Adds Chart by catapulting to the #2 spot earlier this month. "Push the Button" is a hot track showcasing Marc Payne as a Rap Slinger with his trusty microphone at his side and endless, lyrical ammunition to light up the competition. This versatile emcee is firing off beats at will and standing tall in the end after all of the smoke settles. Bring the Payne and "Push the Button" if you dare!
By Jimmy Rae (jrae2@att.net)