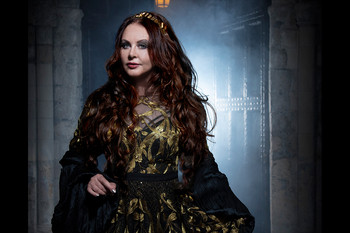 What makes Sarah Brightman the world's most famous soprano? Some might say it's the sheer majesty of her singing voice – and we certainly wouldn't argue with that. But we believe her versatility has something to do with her massive success, too. Light opera, story-songs written for theatrical productions, throwback disco, contemporary pop, experimental music: she's excelled at all of it. Brightman can stir hearts with a classical song, get the dance floor moving with a club burner, and bring a character in a musical to life with vivid color and emotional complexity. Few artists working in any medium have demonstrated comparable range.
Site – http://www.sarahbrightman.com/
Brightman, who starred in Cats and Phantom of the Opera and took "Time to Say Goodbye", her sterling duet with Andrea Bocelli, to the top of the charts in 1996, put that flexibility on display on Dreamchaser, her acclaimed 2013 full-length. That daring album featured songs by Rimsky-Korsakov and Gorecki alongside material associated with adventurous pop-rock bands Elbow, Sigur Ros, and the Cocteau Twins. It all worked beautifully, of course, and the set drew rave reviews on both sides of the Atlantic.
Hymn, her latest adventure, is just as ambitious – and just as daring – as its predecessor. Once again, Brightman and her producers juxtapose classical pieces with modern sounds, and, as always, her recordings demonstrate that the difference between an aria, a theatrical showstopper, and a pop hit has as much to do with framing and context as it does with composition. Even within the realm of classical music, Brightman takes chances: "Sogni", her latest single, splices two separate Bizet pieces into a harmonious whole. She's joined on the track by the French light operatic tenor Vincent Niclo, whose performance matches hers in its intensity and immediate crossover appeal. Niclo makes his presence felt in the gorgeous video for "Sogni", too. He meets Brightman in a stunning tower plucked from the pages of a romance. The space is adorned with cupid sculptures, large windows with thick wooden frames, and soaring bookshelves stocked with ancient volumes.