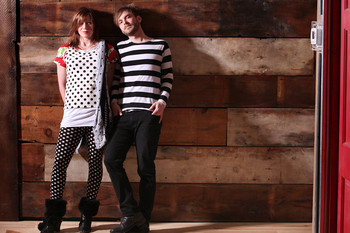 If you've had any exposure to independent music in the Twin Cities over the past ten years, you know the Melismatics. They've long been one of the most exciting groups in a storied underground scene – a pop-rock outfit with irresistible songs, a quirky sense of humor, and impressive onstage (and on-camera) charisma. It's the rare group that can get you dancing and thinking at the same time, but the members of the Melismatics have never had any trouble pulling off that trick. They originally met playing in Mark Mallman's backing band, and over the years they've also played in other bands, like Soul Asylum. They've worked with Jon Auer of the Posies and Dan Wilson of Semisonic, and sent thousands upon thousands of music fans home from their shows happy. They won themselves a national following by touring relentlessly, and placing music on Laguna Beach, The Hills, Degrassi, and other popular television programs.
http://www.facebook.com/RyanAndPony
In other words, they've done plenty. But to our knowledge, principal Melismatics Ryan and Pony have never presented themselves as cartoons. The video for "Fast As I Can" – the latest single from Ryan And Pony – does just that, and it's simultaneously adorable and conceptual, and wholly winning. Their avatars are adorable, but they rock, too. In the animated clip for "Fast As I Can", they battle evil specters in a fantasy landscape, which is about as good a metaphor for life in a touring rock and roll band as we can imagine. For a while, it looks dicey for the pair. But true magic – and true music – always comes out on top.