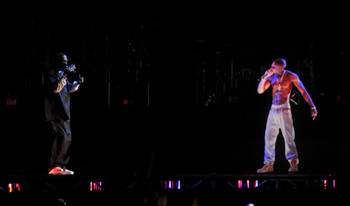 Post-Mortem Touring comes Alive.
Or how the dead rap & rock stars can come back for more box office money.
18 Years after his death Tupac Shakur appeared onstage during day 3 of the 2012 Coachella Valley Music & Arts Festival on April 15, 2012 in Indio, California. Tupac was shot four times while at a traffic stop while in a four-door white Cadillac in Las Vegas after attending a Mike Tyson boxing match with Bruce Selden. He was on his way, after a brawl in the Hotel lobby with some alleged Crips gang members, to Club 662 (owned by Death Row Records) and died from internal bleeding in the intensive-care unit, the next afternoon of September 13, 1996. The Coachella Festival in 2012 featured headliners the Black Keys, Radiohead, and Dr. Dre & Snoop Dog on days one, two and three respectively. Dr. Dre and his production team contacted Digital Domain a visual effects company based in Los Angeles, California a year before the Festival and for several months they collaborated with the company providing them with footage of Tupac for digitization of his physical characteristics and head and body movements captured from recorded performances.
Digital Domain had won an Oscar for visual effects created for the 2008 movie "The Curious Case of Benjamin Button" generating digital versions of Brad Pitt's character.
Digital Domain's Digital Domain's chief creative officer, Ed Ulbrich, told the Wall Street Journal that Tupac's performances of the hits "2 of Amerikaz Most Wanted" and "Hail Mary" weren't canned: "This is not found footage. This is not archival footage. This is an illusion."
And while the audience and media at the time considered the performance to be "holographic" the show was actually staged using an ancient Victorian theatre special effects technique known as Pepper's Ghost." Teleprompters are a modern day version of "Pepper's Ghost" using reflective materials to display the text to the reader. In the Coachella performance the technology used a mylar screen onto which the projected performance was displayed. Musion Systems Ltd. In the UK, owns the patent for using a Mylar screen to display the "performer." The company licenses its technology to other visual companies and the same technology was used during the 2006 Grammy Awards, when Gorillaz the virtual band "appeared" to perform live on stage with Madonna.
Based on the success of his "performance" at Coachella, we've been expecting a Tupac Shakur tour – which so far has not materialized. However: Mitch Winehouse, father of the deceased singer Amy Winehouse has announced a 2019 tour for Amy Winehouse. The projected singer will be accompanied by audio recordings of her voice and a live band onstage. Roy Orbison has already posthumously "toured" Europe and the US.
The live entertainment company Base Entertainment is contracted to develop and deliver the Amy Winehouse live hologram tour. The company CEO Brian Becker admits that the content is not strictly holographic but a 3D illusion, stating that "hologram is just a good name that people recognize."
We are only a few steps away from Artists, and their management teams, from licensing their performances after their death. Can the Eagles collect on gate money now for a tour that they can deliver posthumously? How long till counterfeit tours of Imagine Dragons, Lil Wayne and Bruno Mars hit the road?
I spoke to several digital media companies about their technology and licensing agreements but they unanimously close-lipped when asked about their revenue positions, deflecting to the position of stating that in each case they were in the business of providing technical services to the appropriate copyright holders.
By Conrad W.