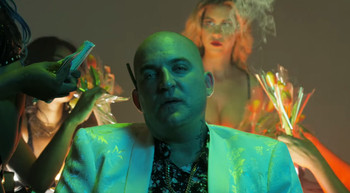 DJ turned rapper Adjnamedroach delivers agressive passion in new visuals for "No Choice" off his latest album Don't Come For Me.
Check out the official music video for "No Choice" on YouTube below:
Adjnamedroach, pronounced "A DJ Named Roach", all one word, very creatively. Starting out as a DJ in Miami Adjnamedroach built his reach from Miami, up South Florida and into Atlanta, GA & North Carolina club markets, eventually sending himself into periods of "psychotic mad hysteria from playing Cupid Shuffle, Wobble & Cotton Eyed Joe, every single night, 5 times a week, like it was the be all, end all, to middle America party know-how". He began to experiment with live production, mixing "the Cupid Shuffle, or whatever" with a variety of other riffs, sounds and song mashes to spice up the song and just keep myself interested in other people's enjoyment of songs I had grown tired of hearing.