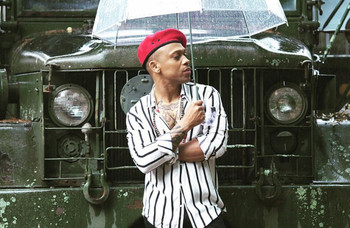 It's hard to believe that it's been almost a year since we've gotten new music from Kameron Corvet after he dropped his stellar Early Riser EP last December, but he's been a very busy man. Now performing as Kam Corvet, the multi-talented artist composed and co-wrote the international hit "Don't Make Me Wait" for superstars Sting and Shaggy and has been seen backing them up on guitar on many a stage this year.
Matters of the heart are central to "Give It A Try." The sweet song is for the broken-hearted among us who consider trying to fall in love again with someone new. "I've been known to disappear when people talk about love and what it mean / But for some reason, the way you talk about it now, sound good, like real good," Kam sings on the first verse, as the icebox where his heart used to be starts to melt. By the time he sings, "I want to give it try and make you my only one," on the chorus, he's all in and practically ready to put a ring on it.
Corvet provides more insight into the song, saying, "It's about the feeling when someone previously reluctant to get into a relationship, finds his or herself changing their mind. It's when a person realizes they had the wrong perception of what real relationships bring." Believe it or not, the inspiration for the track actually came from the true story of his parents eloping after being pen pals. Considering that they're still happily married many years later, they sound like #RelationshipGoals.