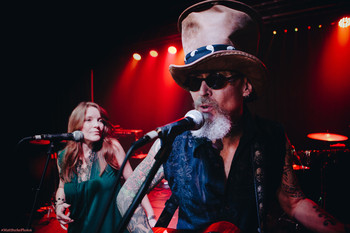 Happy Wednesday to all, it is so good to see you all here. Today we have a first as we get to chat with Boo Radley on their honeymoon. This musical matrimony is really inspiring as Boo Radley talks to us about their new album 'More Than Meets The Eye' and video to help victims of Hurricane Michael which was the third-most intense Atlantic hurricane to make landfall in the contiguous United States. Join us today as talk about everything from rebuilding after disaster, a happy marriage, helping victims of Hurricane Michael, and of course the music!
@skopemag: Where are we talking from today and how is your week so far?
BR: We are actually on our honeymoon! We got married this past June, and are finally getting to take our honeymoon on the Atlantic Coast of Florida, in the United States.
@skopemag: Your area was recently hit hard by Hurricane Michael, explain what is going on and how did you endure such a weather event?
BR: We personally were extremely lucky to have sustained no damage at our home. But areas just to the west of us received a devastating blow and are still struggling to recover. It is unfortunately going to be a long time before things are anywhere close to normal over there. Hundreds, maybe thousands, of families were deemed instantly homeless from the storm. It looks like a war zone. Whole towns were literally flattened. A lot of help agencies sped in to assist, but we are hearing reports of the federal agencies not really stepping up and getting folks back into housing. They are going to need help getting back up for a long, long time.
@skopemag: When something like that happens how do you keep the faith & strength to rebuild?
BR: Well, there seem to be two ways of handling it, from what we can see. We have not had to rebuild from this particular incidence, but have had life deliver some pretty hard blows in each of our lives. We have learned that you just have to decide that you can rise above the circumstances. You have to choose whether you are going to get better from it, or bitter; it can either be a stepping stone, or a tombstone. You just have to decide whether you can muster the strength to rise above. We each have very strong faith in God, which gives us strength. We believe that making your way through trying situations makes you stronger, and somehow wiser, even though that wisdom may stay hidden until the next time you have to call on it.
What really helps to put things into perspective for us is writing. Very many of our songs encapsulate things we were feeling as we tried to make our way through tough situations. Writing for us is a great release. It helps the writer to flush out his/her feelings and kind of put things into place. The really amazing, almost magical aspect about that is that when we perform songs that were written through pain, our audience members really feel a lot of emotion coming through the song. We often have listeners approach us at live performances to say that they personally felt our words, and that one song or another seems to have been written for them! It's as if the pain that we were experiencing is clearly depicted in the song, and others who are feeling similar feelings can get in touch with what they are experiencing through our music. It truly is almost magical.
In 2014 Michael received his Master of Social Work Degree, and had this article published in the Journal of Poetry Therapy: The Therapeutic Effect of Lyric Writing on the Writer: A Narrative Perspective This article portrays how the writing process helps us personally as we make our way through hardships. It's a pretty intense experience, for sure!
@skopemag: I read that you are married. What came first the music or the marriage and how does music help keep your union strong?
BR: Yes, we were married this past June! We met when Michael was in a rock trio called CommonZenz in Tallahassee, Florida. We discussed how we both are songwriters, and Michael invited Patty to help him write a song he had been asked to write for a local country singer. We met to see if our writing styles worked well together, and in that first afternoon we came up with what is now the title track of our first commercial EP, 'More than Meets the Eye.'
It was another year or so before we got together as a romantic couple, and another year or so after that before we even decided to try doing music together. From the beginning, we were getting a great response to our music, and here we are, 4-1/2 years later, still doing it for our living!
We believe God keeps our union strong. The music colors our lives, and allows us to speak through hardship to others who can use a positive message. Helping others helps keep us going. We count ourselves truly blessed to be able to do what we do, and to make our music such a central force in our union.
@skopemag: How did you come up with the name Boo Radley and how does it define your sound?
BR: The name defines our personalities rather than our sound. It was taken, of course, from the great novel 'To Kill a Mockingbird' by Harper Lee. It's very fitting, because Patty is pretty much the grown-up version of Scout, and Michael is Boo Radley! LOL! He scares children until they get to know him, and then they find out he's really a great guy. Just kidding (sort of)…it actually came to Michael one night in his sleep. We woke up one morning, and Michael said, "How about Boo Radley?" Patty said, "What about him?" and we decided that it would be a good name for our act. We tell people at our shows, "We're the only band that doesn't mind it when you 'booooooo!' It's been a lot of fun.
Our sound has kind of defined itself. In concert, we utilize just one acoustic guitar and two vocals…pretty stripped down. We weave very intricate harmonies throughout, and that seems to be our 'calling card,' along with Michael's guitar playing.
@skopemag: I am loving your album 'More Than Meets The Eye' – https://booradley.hearnow.com. How long were you busy writing & recording that collection and how has the response been?
BR: Our songs kind of piece themselves together as we go along. We write all the time, usually each on his/her own. We have zillions of bits and pieces of song ideas everywhere…melody ideas recorded on a little hand-held recorder, lyrics written in single lines on scrap paper, matchbooks, you name it. Then suddenly one idea will force itself to the forefront, and different pieces come together, and before you know it…a new song is born!
The songs on this recording had written themselves over our first couple of years together. We really do feel that there is a higher power writing through us. We are more or less just conduits.
Response to our EP has been really great locally. We just have to get the word out to more folks to sell more, which is why we are so grateful for opportunities like this, to be presented to a wider audience. Thanks so much for that!
@skopemag: There are 7 songs on this album. How did you get to choose those songs and what song would you want to make a music video for?
BR: The songwriting seems to have been the easy part. The difficult part was choosing which songs to include on this project, and that is where our audiences came in. We have done about 450 shows together, and it's easy to discern which songs people like the most after a while. We pulled our audience into the process in a huge way. As we got closer to our recording date (December 2016), we polled audiences and judged the most liked songs by their applause. Then we went to Nashville to record at an iconic recording studio there, with some legends in the business. We performed probably about thirty songs for the Producer and Engineer, telling them which our audiences respond to most, and then we whittled the list down from there. We had actually just written two of the songs that appear on the EP…'C'mon Home' and 'Ballad of Me, Myself, and I' not long before our recording session. We had originally planned to do just a five-song EP, but we all really liked these two songs, and we added them to the list.
We'd like to do a video for our song, 'Uphill.' We think it is the song that defines our style the best. We have some great ideas for the video, and are actually working on a theatrical idea for stage including this song and a few others.
@skopemag: I am loving your video to help victims of Hurricane Michael. Has that been effective and have the people effected seen it?
'You're Not Alone'…Aide for Hurricane Michael victims

PLEASE SHARE AND TAKE PART!_HURRICANE MICHAEL RELIEF…Please purchase a download of our song, 'My Good Friend!' $4.99. (Playing in video below.) Let's let those whose lives have been forever changed know that THEY ARE NOT ALONE!_Go to https://booradleymusic.weebly.com to purchase! :)_All proceeds (minus PayPal fees) will go to Catholic Charities of Northwest Florida. They, in turn, will give 100% where it is needed…directly to the peole who are hurting the most!_THANK YOU!

Posted by Boo Radley on Thursday, October 25, 2018
BR: Thanks. That was put together through buckets of tears. It's just incredible to see what those folks have had to endure. We really have not had the response we had hoped to receive. We've gotten a little over 2,000 views, but only about 1% of folks have actually downloaded the song to send aid money to the victims. It's been rather disheartening, to tell you the truth. Everyone that lets us know they saw it says they were very deeply touched by it, but it has not generated the funding that we had hoped it would…yet. Again, that's where it really helps when kind folks like you help us to spread the word.
We don't know if anyone in the affected areas has seen our video. Our guess is probably not, as many areas are STILL without utilities. They didn't have to just repair electric systems over there…they are having to actually rebuild the entire system in some parts.
A huge part of the problem is that the rest of the country seems to have forgotten just how terribly these people's lives were torn apart. Now that the storm has been replaced by other, more sensational news (which we all know happens way too regularly), everyone has moved on to the next tragedy. But those areas are NOT back on their feet. They are NOT back to normal. Many of them are living in tent cities in what used to be their neighborhoods. They just opened schools back up this past week, having to double up attendance in certain schools, because many schools were totally demolished. A kind-hearted lady that we know through Facebook realized that many of these kids lost everything and didn't even have good shoes to wear to school. So she did a collection, hoping to collect even a modest amount of shoes, and ended up getting more than 3,000 pairs! So we know that folks will react and help if they are made aware of just how bad conditions are. It's just a matter of communicating that the need is ONGOING, and will be for a long time.
@skopemag: If readers of this interview want to help what is the best way to do so?
BR: Thanks so much for asking!!! Of course, they can purchase a download of our song through this special site we have created. We are giving all proceeds, minus PayPal fees, to help the recovery effort.
Or they can go directly to an aide organization site and give directly through them. We recommend Catholic Charities of Northwest Florida, not because we are Catholic (we are not), but because they give all of the money collected to those in need. And we feel strongly that they are going to be with those folks over there all the way through this struggle.
@skopemag: How much time per week do you set aside to work on music and what roles do you play in that process?
BR:
Michael: I'm working on it pretty much 24/7. I don't set aside a certain time to write, I'm just always receptive to ideas. I play guitar for between three to six hours everyday. Literally. I'm visually handicapped (legally blind), so that allows me to spend the time on my craft. My guitar playing probably sparks most of the writing, because a lot of times at the end of a long day of playing, one idea or another will have forged itself into a song. When one of those riffs, or lines, or melodies becomes intrusive, we know it's time to bring that song to life.
Patty: Well, I get to spend way less time on my actual craft than I'd like to, as I have to wear many hats to keep this business running. I am the booking agent, graphic designer, social media updater, driver, etc. Since Michael's eyesight is not good, he is very limited as far as 'screen time' goes, and he can't do any of the driving. Some days I am on the computer for ten to twelve hours.
When we make it to the performance stage, we feel like we can relax and actually do what it is we're supposed to be doing! We just started working with a great agent, Eugene Foley, who is helping us with some booking, etc. Hopefully as we progress, I'll have more time to spend on my art and have to spend less on the scheduling, etc.
Not that I'm complaining, by any means! I wouldn't trade being able to do this for my living for anything!
Lyric ideas come to me throughout every day activities. They always have. A crazy thing for me is that a lot of times, when I am connecting with water, lyrics just pour through me. There have been times when one dish-washing session yields an entire song, just whoosh!!!…started and finished in one hour. Then there are ideas that I have had swimming around in my head for decades. They each have their time to be born, I guess, and some are more 'needy' than others.
@skopemag: My wife sleeps downstairs with my kids and treats our marriage like a business deal, what advice can you offer so we can connect again and have fun like when we met?
BR: Wow. Can we go back to music questions? LOL. Just kidding. Seriously, it takes setting aside time to spend with each other alone. Even if it's just a walk around the block; a quick cocktail in the local restaurant; a 'date' to watch a particular movie with each other. We know this is way more difficult than it should be. We are together pretty much 24/7 because of Michael's disability. But the actual time we spend doing something together is so much less than that. There are some days during which Patty has been on the computer all day and Michael on the couch playing guitar, and even though we've been in the house together all day, we have hardly interacted with one another at all. But we almost always come together to share an evening meal. Dinner time is an important 'together' time for us.
It's very easy to take each other for granted, especially when the everyday tasks you have to perform take most of your time. Maybe envisioning life without your partner would help rekindle an appreciation? Remember what it was that attracted you in the first place.
@skopemag: What is coming up for Boo Radley and where you @ online?
BR: Hopefully big things are in store for us! We are expanding our performance region to add more regular cities to our tour schedule. We are ready, willing, and able to travel, and hope to land some opening slots for national acts to get us in front of a larger audience. We are very hopeful that our relationship with Foley Entertainment will produce some opportunities for us in the very near future. We plan to just keep building this project and reaching as many people as we can as we go. Opportunities like this one definitely help move us in the right direction. Thanks again!
We can be found online through the links below. We sure could use more 'numbers' on our social media pages, and thank you for getting us out there!