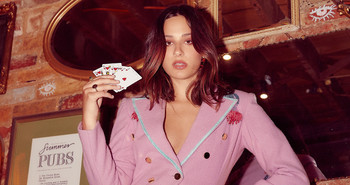 A musical force to be reckoned with, Samsaruh today has shared her unforgettable new single 'The Beginning' – showcasing her incredible vocal prowess, complimented by killer guitar leads – 'The Beginning' is a powerful statement, Samsaruh means business.
On writing the new single Samsaruh said, "Creating The Beginning was probably one of my easiest writing experiences ever. Oscar Dawson (from Holy Holy) and I, second day of writing together, we plugged the guitar and mic in, pressed record and just started jamming. Without exaggeration at all, the first chords that came out of him and the first melodies and lyrics that came out of me, became The Beginning. It was almost like we had written this song together in our past life and we were just playing a song we already knew. This song for me is about not giving a damn. It's that carefree, sarcastic and punchy song that's been waiting in hiding, ready to empower you."
This year Samsaruh has joined Peking Duk and LANKS on their respective tours, gracing the stage at This That Festival, Groovin the Moo and performed her first headline east coast tour, selling out The Workers Club. With her unique mixture of rock and alternative pop – Samsaruh proves that much like her new single, this is just 'The Beginning'.