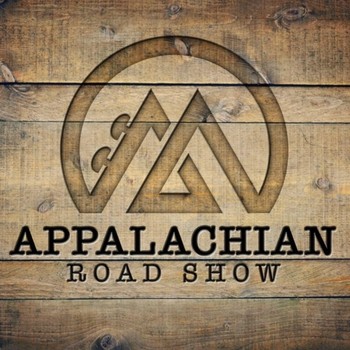 FACEBOOK: https://www.facebook.com/appalachianroadshow/
An album can often be defined by the muscularity of its master mix, and in the case of Barry Abernathy and Darrell Webb present Appalachian Road Show, the duo (plus fiddler Jim VanCleve) pull out all the stops to present the music of the Appalachian countryside to us free of any artificially-generated frills. As we descend from the plaintive, spoken word introductory track into the thrilling acoustic romper "Little Black Train," there's nothing to get between us and the furious play of the band, who employ nothing more than a mandolin, a banjo and VanCleve's fiddle to create a melancholic jam that exquisitely captures the feeling of a mortal sin catching up with the sinner who committed it. Menacing grooves are around every corner in Appalachian Road Show's debut, but their danger is limited to their mammoth harmonies, which never overtake the focused execution of their play.
The emotional connection that Abernathy and Webb share with the slice of Americana that produced bluegrass music is overwhelmingly present in songs like "Broken Bones," "Georgia Buck," "Piney Mountains" and the blistering "Lovin' Babe," and it becomes all the more emphasized by the inviting warmth of the interplay between the duo. VanCleve adds a splash of color when necessary, but the real draw of this album is the furious grooves that come to life under the glow of the vocal harmonies. Even a rollicking ballad like "Milwaukee Blues" features a sense of urgency that is born purely of the reflective, echoing string battling between Abernathy and Webb, and though it's not even slightly aggressive in its tempo, it's saturated with an evocative, eager competitiveness in the delivery of its instrumentation that makes the song feel like an exhibition match between two heavy hitters instead of merely a simple collaboration piece.
The fluidity of Appalachian Road Show's rookie offering is essential to its charm; tracks like "Anna Lee" rely solely on a storytelling-style prose to convey the colorful imagery that the lyrics describe. Unlike a lot of their country contemporaries, Abernathy and Webb aren't content to recycle broken down narratives and metaphorical lyricism in this record, hence the straightforwardness of "I Am Just a Pilgrim" and their choice to cover Steve Miller's "Dance, Dance, Dance." The production quality is crisp and clean allowing for us to really cling to these verses for some artistic clarity, and as a result we're able to enjoy these melodic fireside yarns as they were truly meant to be heard – organic and without filtration.
Barry Abernathy and Darrell Webb present Appalachian Road Show is a brilliant collaborative record that boasts the talents of its two primary players splendidly and lives up to the pedigree that hardcore bluegrass fans have come to expect out of a modern full length album. One of my favorite moments in this LP came in "Old Greasy Coat," a mostly instrumental war between Abernathy and Webb that employs VanCleve's spirited fiddle play as a finishing touch. It's really something when a song that has so few words is able to conjure the same kind of visuals that its lyrical counterparts can, but that's the real allure of Appalachian Road Show. Their sound is descriptive in its tone and bold in its use of textured rhythm. In short, it's the perfect encapsulation of what solid bluegrass music is supposed to sound and feel like.
AMAZON: https://www.amazon.com/Barry-Abernathy-Darrell-Present-Appalachian/dp/B07GJ67W3F
Gwen Waggoner