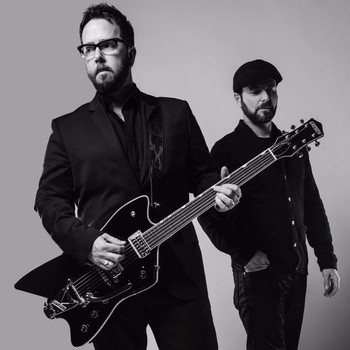 URL: http://www.thecoldstares.com/
With a bombastic crunch, "The Great Unknown" blasts open a portal to the blues rock gods in track one of The Cold Stares' Mountain, which is out now everywhere indie music is sold and streamed. The introductory riff is as thick as molten lava, cooled only by the sensitively echoing drums. The mix is immovably muscular, built on a bluesy tread that is accompanied by a southern style storytelling via singer Chris Tapp that leads us right into "Friend of Mine." Contrary to "The Great Unknown," the riffs in this second track get a little dirtier and the vocals abandon their melodic tenderness in favor of mimicking the exotic grind of the music.
"Under His Command" inserts the first acoustic song we find in Mountain, but it isn't a happy-go-lucky folk ballad. Wrapped in ethereal lyricism and a fuzzy vocal track, the music swirls around us like an angry mob sizing up its prey before allowing the jittery riffing of "Stickemup" to finish us off. "Stickemup" and "Gone Not Dead" are much less centered than the first three songs, but their messiness is surprisingly polished. They provide a sweet transition into the sonic smoke screen that is "Wade In The Darkness," which features a distant vocal from Tapp that feels like a dream sequence instead of words in a rock song.
The color of Mountain doesn't sparkle as brightly until we get into the guts of the record with "Child of God," where Tapp and drummer Brian Mullins string us along an eager beat that leads us straight into a heavy-handed aural oasis. "Sleeping With Lions" evolves from the smoldering remnants left behind by "Child of God" and leaves us dazzled by its super-high definition delivery of Tapp's epic singing. Even though it throws the pace of the record off a bit, "The River" and "Cold Black Water" reel The Cold Stares back in from alternative rock terrain and towards the Memphis-inspired swing that accented the album's first half.
GOOGLE PLAY: https://play.google.com/store/music/album/The_Cold_Stares_Mountain?id=B25mgbbt7sril6xxxsy2dendkx4
"The Plan" is the last piece of rollicking riff rebellion we're privy to before Mountain sheds its electric jacket and gets bare naked musically in "Way Gets Dark," the angular "Two Keys and a Good Book" and the psychedelic folk ballad "Killing Machine." I found this portion of the record impossible to skip over, even in the most cursory of listens. Tapp's voice gets much more labored and full of regret as we near the album's conclusion, as if to suggest that the end times are near and there's nothing we can do at this point to avoid the impending apocalypse that awaits us.
Mountain ends with its title track, a reverberating acoustic song that is punctuated with a phantom slide guitar and waves of ephemeral percussion that sober us in their plaintive sway. Tapp begs for some higher power to steady his hand, to break his chains and lead him out of this emotional bondage that we've listened to him struggle with over the previous fourteen tracks, metaphorically comforted by the equally gloomy blues guitar that has led him to this coherent conclusion. After just under four minutes of superb play, the guitar symbolically bids us farewell with a final, evocative strum that fades into the atmosphere as stoically as it materialized.
I discovered that with each uninterrupted listen of Mountain there's another fold in the creative profile that The Cold Stares have developed since 2017's Head Bent to analyze. Where we start with "The Great Unknown" and the brooding "Under His Command" conceptually propels us into "Sleeping With Lions," "Cold Black Water" and eventually the emblematic "Mountain" itself. Much like an adventure into the wilderness, there's as much to learn about ourselves in this record as there is to learn about the substance of the surroundings that we're met with in its fifteen unique songs. This record was made with The Cold Stares' diehard followers in mind, but its consistency and bold use of an experimental production style will likely make it a hit with both casual listeners and music critics alike.
TWITTER: https://twitter.com/thecoldstares
Gwen Waggoner