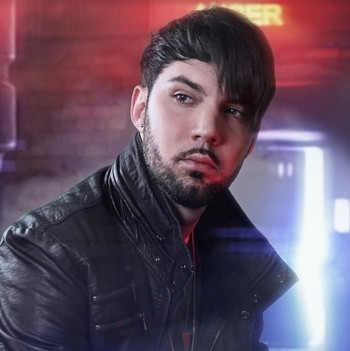 Growing up in the small town of Cocoa, Florida, Joey Danger (Joseph Anthony Stuller) has always had big dream as a musician, filmmaker, multimedia artist, and producer; now, he lives in New York City, where he's working hard to make them happen. Joey is an award-winning director / VFX artist, having created music videos, animation, viral media content, and films for international brands, magazines, artists, and celebrities. This, combined with plenty of experience in the music industry as a songwriter, musician, audio engineer, and producer has enabled him to independently produce high concept works on virtually any budget, showing what is possible for an indie artist in the 21st century.
http://www.joeydanger.com/
Now, eight years since he released the EP Alive, Joey Danger has announced the release of his new EP, Lust & Vulgarity. "This EP is kind of a concept album. I based it on where found myself shortly after I moved to New York. I was in a numb place emotionally and felt like I suddenly had access to everything I always wanted which led me down a rabbit hole of constant self-indulgence," he says, adding, "After my last EP, I wasn't interested in doing more of the same creatively. I went through a lot in my personal life and didn't feel like that person anymore. Rather than rush new music out, I took time to refine myself as an artist and make something that I felt reflects who I am now."
In addition to the Lust & Vulgarity EP, Joey has also debuted his award-winning music video/sci-fi fashion film for the single "Surrender." Independently written and directed by Joey, it's both a music video for the song and a fashion story for IRK Magazine's Futurism issue, with editorial stills by photographer and film producer Morgan Miller and starring models Anna Miller and Kasia Krol. The video took nearly two years to create, and was shot entirely on a green screen in NYC at Morgan Miller Studios and was styled by Cannon Media Group.