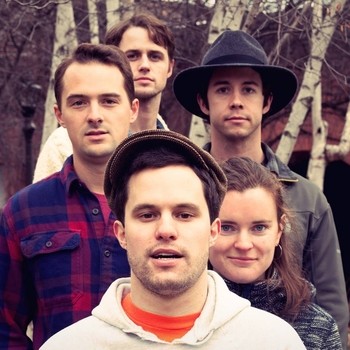 URL: http://kazyak.com/release/reflection/
The quintet Kazyak offers listeners, with their third release Reflection, a musical kaleidoscope. Impressionistic songwriting and playing defines this eight song collection and its wide ranging influences shape the results in satisfying, familiar, yet somehow alien ways. It's a collection of outtakes, b-sides, and demos amassed over the band's brief history, but don't mistake it for ragtag or shoddily assembled. Reflection is very much a musical step forward for one of the indie scene's most compelling bands while reaffirming the strengths listeners encountered with their first two recordings. "First Do No Harm" acts as the opening curtain for Reflection and finds the band adeptly blending together a number of disparate elements. Acoustic guitar and glittering keyboard/synthesizer lines color the song's canvas and a reverb driven vocal glides over the top of a steady rhythm section performance.
The low key acoustic influence continues with the album's second song "Our Daydream" and the tune contains a gradual melodic uplift you'll immediately enjoy. The underlying bass playing and discreet percussion are essential for the song's rhythmic pulse, but never obtrusive and the guitar playing, acoustic and electric, flashes like quicksilver over the song's foundation. It's a thoughtful, windswept number with especially potent vocal harmonies positioned around the song's chorus. "Talking to a Stranger" has a distinctly darker, more progressive air and the lyrical mood strengthens that effect. They bring sounds to bear on this cut you'll hear from no one else – like the hint of a languid folk song running deep in the mix and the biting phase of the song's lead guitar, practically banjo like, in the song's second half sounding like overdriven bluegrass and walloping listeners.
There's definitely some musical scene setting occurring during the opening seconds of "Androcles", but it's never ornamental or self-indulgent. Songwriter/guitarist Peter Frey continues mining this vein when the song begins in earnest and "Androcles" deserves consideration as the album's strongest narrative. The literary qualities of Frey's lyrics are impossible to ignore and Kazyak, as a whole, weaves a rich and flexible musical web to support his writing. "No Tattoo" has languid, luxurious pacing and serves up another example of the band's talent for melodic, yet distinctive, compositional textures. There are no lead turns, per se, in Kazyak's songs – instead, there's more of a focus on achieving a cohesive layered sound integrating seemingly incongruous musical touches.
The penultimate cut on Reflection, "Belmonte", will again showcase Frey's writing skills for listeners. It is, essentially, poetry set to music and the lean, muscular presentation of its evocative imagery gains much from another superb vocal. We are treated, as well, to some of the same singular tempo shifts heard in the band's best songs – one of its musical high points comes with an instrumental break during the second half when the guitars and rhythm section alike escalate the intensity to bruising heights. The finale "10,000 Flowers" jettisons the musical surprises of earlier songs in favor of a much more straight forward arrangement during its first half, though attentive listeners will note subtle backbeat manipulations. The final quarter of the song, however, skews the song's initial line of attack a little, however, and incorporates different instruments much higher in the mix.
TWITTER: https://twitter.com/kaz_yak?lang=en
Gwen Waggoner