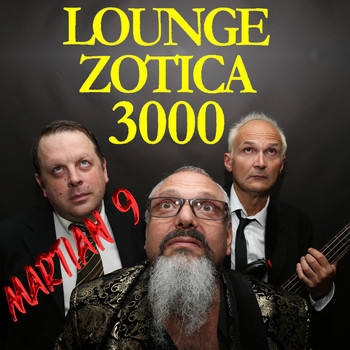 LoungeZotica 3000 goes for a timeless sort of cool with the sophisticated jazz-pop musings of "Martian 9". Sly grooves reign supreme as the whole of the album has a swinging, retro vibe to it. The dry delivery works wonders for the collection, as they conjure up imagery of Dick Dale, Bossa Nova, and a bit of swing into the mix. With all these divergent approaches they create something that has a vibrancy to it. The band's interplay feels particularly satisfying for each instrument knows exactly when to dial it back, resulting in a group play fervor that has such grace to it.
Opening things up in style "ThunderWear" holds nothing back as guitar riffs twist and turn their way through the ever-expanded arrangement. Things take on a more minimal take on the nimbleness of "Quirido Para Mi". A dry western twang comes into the fray on the laid-back "Shot In The Dark". Aptly named "Slow Corner" goes for a meditative atmosphere. Going for a really unusual take on the Beach Boys is the lovely slowed down to molasses flavor of "Good Vibrations". With a nice sense of humor is their take on the classic "The Good The Bad and The Ugly" theme. "Martian 9" the title track goes for a new level of inventiveness, resulting in the highlight of the album, with so many unexpected jumps from groovy to dreamy to everywhere in between, all highlighted with a psychedelic sheen. Feeling rather appropriate the album ends with "The Munsters".
Record Label: Bongo Boy Records
Website: https://bongoboyrecords.com
With "Martian 9" LoungeZotica 3000 explores an otherworldly space, one where the arrangements have so much room to roam in just the right way.
Artist Web Site: https://bongoboyrecords.com/loungezotica3000/
By Beachsloth