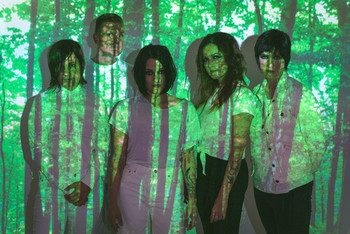 Marisa Prietto (lead vocal), Nicole Fiorentino (bass and backing vocs), Erin Tidwell (drums), Nicki Nevlin (guitar), Josiah Mazzaschi (guitar and programming) have individually had much success in bands in Los Angeles the last decade. Having played and backed such bands as The Smashing Pumpkins, Veruca Salt, Tennis System, Wax Idols, Jennie Vee, and Light FM. Over the years, through the music scene, they became great friends and realized, more than anything, they wanted to play in a band with each other. From this, Bizou was born. Bizou dishes haunting and honest vocals, backed by the melodic and hard hitting guitar, bass, and drums reminiscent of the synth-pop, post-punk, new wave the music scene so desperately needs. Some might say, they're serving up cotton candy at a beach bonfire for goth kids. And, hey, goth kids need love too.
'Superstitious' is a powerful rock'n'roll track with potent gritty guitars, throbbing basslines and anthemic melodies. Built upon dense instrumentation and doses of textured energy, the single packs a punch and emanates clashing tones. Prietto reveals, "I think a lot of our stuff treads that line of dark message/bright vibe. Our music straddles duality both sonically and thematically".
With each member hailing from a different state in the US, Bizou use their different experiences and diversity to their advantage. Although their songwriting is a very collaborative process, the band explain how there's a great amount of interplay between their shared likes and dislikes which ultimately creates some artistic frisson.