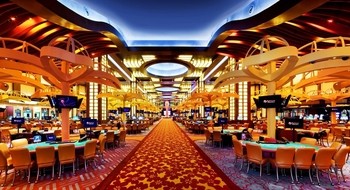 Life seems to go on without effort when I am filled with music. This fantastic quote by George Eliot shows us just how important music is. This artistic display of beats and vocals makes pokies and casinos, in general, a fun experience. The sound effects in online slot machine games make it entertaining to experience the rush of spinning reels and winning slots jackpots. While these musical aspects are not appreciated by everyone, some online slots players like to turn off the game sounds. They then use their audio devices to listen to their own music while they play. For this group and music lovers who love slots, the following playlist features the best songs to game to.
Here is our ultimate list of the best casino songs:
'Poker Face' by Lady Gaga
This massive hit from Lady Gaga touches on a famous card game. The song has a hidden meaning but as casino lovers, we're putting this in the playlist. The song has a catchy side to it and will have you tapping your toes and nodding your head. It makes for a fantastic song that will definitely have you gaming away.
'Russian Roulette' by Rihanna
Nine years ago the Barbadian queen, Rhianna, released a song about a deadly game of Russian roulette. The song talks about a toxic relationship and not the classic casino game. This, however, is no reason to leave it off our casino playlist.
'The Gambler' by Kenny Rogers
Casinos and country music have a strong connection. First off, we at Novibet casino site have not come across many people that don't like country music. Kenny's 1987 classic is a perfect fit for this playlist. It talks of a gamblers plight and reminds us that we sometimes need to cut losses and run. It is also a pretty catchy and mellow tune that will further broaden your gaming experience.
These three hit songs make it onto our music playlist for online casino games.